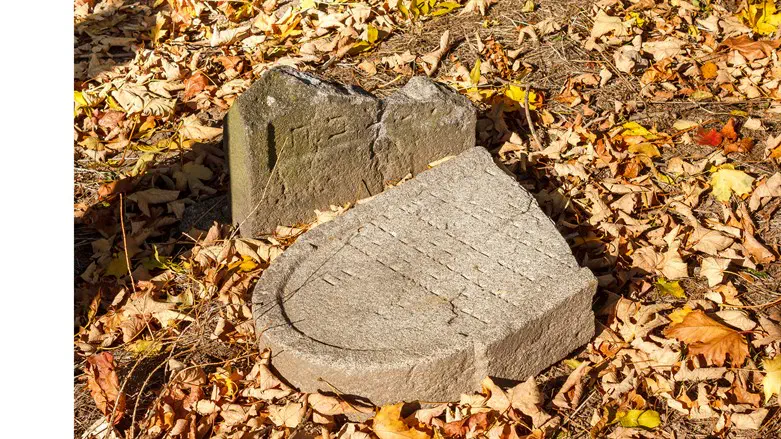 Jewish headstones (stock image)
iStock
The Sephardic cemetery in Belgrade, Serbia was again vandalized with antisemitic graffiti, the city's Jewish community said.
The cemetery was previously been attacked by vandals two years ago.
The graffiti included a crossed out Star of David and a swastika spray painted in blue on the gates of the cemetery.
The vandalism was the work of a group of far-right fans of a Belgrade soccer team, according to the EJCPress.
Belgrade's Sephardic and Ashkenazi cemeteries are the only Jewish places of burial still in operation in Serbia.
Rabbi Menachem Margolin, the chair of the European Jewish Association (EJA), urged Serbian President Aleksandar Vučić and Interior Minister Bratislav Gašić to issue a fast response to the incident, and to also meet with Jewish community leaders to discuss how to deal with the increase in antisemitism in the country.
In a letter addressed to Vučić, Rabbi Margolin wrote: "Mr. President, the small Jewish community in Serbia seldom makes the headlines. This is in no small part to the effort of the government, and to wider society in general, for creating a friendly and tolerant environment where Jews can live and grow.''
"However, I received a message from a prominent community member that not only was the attack repeated but that 'things are not good.' I believe this merits a more robust response" the letter continued.
Rabbi Margolin called for the government to condemn the attack and to open an investigation leading to the perpetrators being prosecuted.
The cemetery was previously vandalized in November 2021, including windows being smashed and an axe left behind on the floor.
Rabbi Margolin said at the time, "We were very saddened to see this vandalism at the Jewish Cemetery in Belgrade."
"It is clear that whoever was responsible has no respect for the dead, never mind the living. We extend our support to our Jewish brothers and sisters in Belgrade and Serbia as a whole, who must be reeling at this attack, and feeling vulnerable," he added.