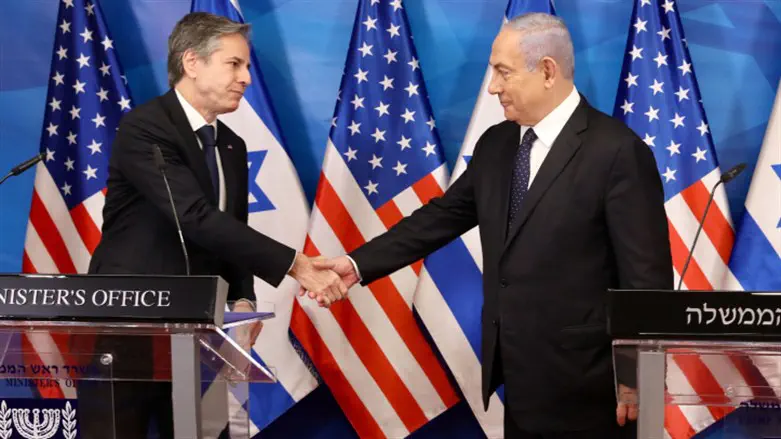 Antony Blinken meets Netanyahu
Marc Israel Sellem/POOL
US Secretary of State Antony Blinken on Tuesday summarized his visit to Israel and the Palestinian Authority as he departed the region.
"Concluded another productive trip to Israel and the West Bank, where I met with Israeli and Palestinian counterparts and leaders from civil society. We will continue to support the parties and all efforts to deescalate tensions," he tweeted.
Earlier on Tuesday, Blinken held a press conference in Jerusalem in which he summed up his visit.
In his remarks, Blinken compared the casualties Israel and the Palestinian Authority have sustained the last month saying that "both sides" had lost "many lives," despite the fact that all seven Israelis who were murdered last week were civilians and the fact that the vast majority of Arab casualties have been terrorists or combatants.
The Secretary of State said he heard "constructive ideas" to reduce tensions in the region in light of recent deadly incidents, and he would leave some members of his team in the Middle East to continue discussions on those matters.
He further stated that the Biden administration "opposes anything that puts a two-state solution farther from reach, including settlement expansion, demolitions, evictions, and disturbing the status quo on the Temple Mount." He also included incitement to violence as something the administration opposes.
On Monday, Blinken met with Prime Minister Benjamin Netanyahu, with Foreign Minister Eli Cohen and with President Isaac Herzog.