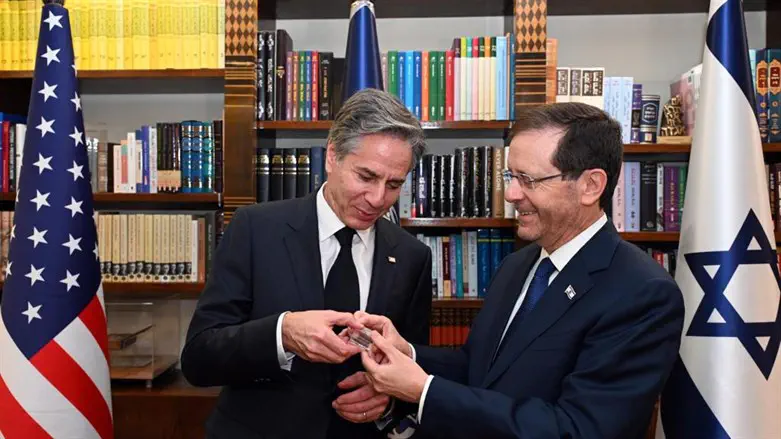 Pres. Herzog and Secretary Blinken
Haim Zach/GPO
President Isaac Herzog held a diplomatic work meeting with U.S. Secretary of State Antony Blinken this evening. This is their fourth meeting since the President entered office. The President and the Secretary met privately, after which they held an expanded meeting with the participation of both delegations.
President Isaac Herzog at the start of the meeting: "Welcome to Israel, Mr. Blinken, Secretary of State of the United States of America, a great friend of Israel and a great personal friend. It is wonderful to see you here in Israel again, and I want to convey my gratitude on behalf of the people of Israel to President Biden and Vice President Harris for their words of condolence and strength in a very painful moment that we had over the weekend when dear, beloved, innocent citizens of Israel were butchered simply for being Jews and Israelis. I want to thank you for standing by us in this battle against terror and hate.
"I also saw your comments regarding the Israeli internal situation, of course the constitutional argument that has ensued in the Israeli public, something that I am heavily devoted to trying to resolve or lead to a path of internal dialogue. As you said correctly, this is an issue that requires wide consensus, and it is an issue many democracies debate. We are a vibrant democracy. You said it correctly a few days ago: a vibrant, very vibrant democracy, and I'm very proud of Israelis who are dealing with this debate, from here and from there, who are expressing their opinions. This is so very important to us. But at the end of the day, we have to resolve our issues amicably, internally, as societies and nations should do, and this is my main focus these very days.
"Finally, there are many bilateral issues. The United States of America is our closest ally. Our bonds with the United States are extremely strong, I would say they even transcend politics. It is simply something that is deeply psychological and emotional. We were so honored to host President Biden just a few months ago and I was also honored to visit him in the Oval Office, and I hope that we will be able to continue and develop the relationship in so many other fields together. Thank you very much for coming to Jerusalem."
U.S. Secretary of State Antony Blinken said: "Mr. President, thank you. It is always a great pleasure for me to be able to spend time with you. I appreciate deeply the partnership, the friendship as well. I would simply say, again, at the start: our solidarity in this very difficult moment in the wake of the truly horrific terrorist attack just a few days ago, I think made even more horrific—if that's possible, because any terrorism is by definition horrific but the fact that it took place outside a synagogue and targeted people who were leaving a place of worship. You know our strong solidarity with Israel, with all the people of Israel, when it comes to facing terrorism and we stand with you as always in that.
"I had very good conversations with the Prime Minister, with the Foreign Minister, but it is a particular pleasure to be able to spend some time with you, and I would simply say how much we appreciate, Mr. President, your leadership, the clarity of your voice when it comes to working to deescalate tensions here among communities, and the clarity of your voice when it comes to finding a good way forward that builds consensus on the question of judicial reform, and of course your voice and your vision on some of the other issues that we're dealing with as strong allies as strong partners. So I really welcome the opportunity to spend some time and there's a lot to talk about."