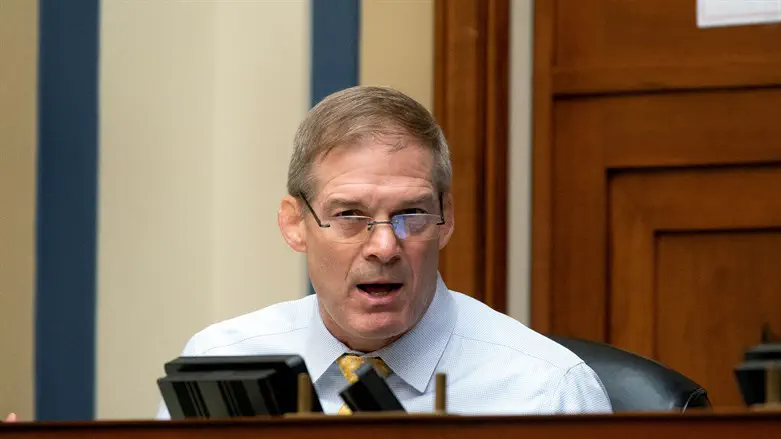 Jim Jordan
Reuters
The Justice Department on Monday denied a request from House Judiciary Committee Chair Jim Jordan (R-OH) for sensitive information involving its probe into classified documents found at President Joe Biden's home and a former office, NBC News reported.
In a letter obtained by the network, a top Justice Department official said the department would cooperate as much as it could but would not disclose nonpublic information about the probe.
"The Department's longstanding policy is to maintain the confidentiality of such information regarding open matters," Assistant Attorney General for Legislative Affairs Carlos Uriarte wrote to Jordan.
"Disclosing non-public information about ongoing investigations could violate statutory requirements or court orders, reveal road maps of our investigations, and interfere with the Department's ability to gather facts, interview witnesses, and bring criminal prosecutions where warranted. Maintaining confidentiality also safeguards the legal rights, personal safety, and privacy interests of individuals implicated by, or who assist in, our investigations," he added.
Earlier this month, a White House lawyer said that a "small number of documents" with classified markings that are tied to Biden and appear to be from the Obama administration are under review by the Justice Department and National Archives.
Two days later, it was reported that aides to Biden discovered at least one additional batch of classified documents in a location separate from the Washington office he used after leaving the Obama administration.
The White House last week said it had discovered five additional pages of classified documents at Biden's home on Thursday, the same day a special counsel was appointed to review the matter.
Jordan on January 13 demanded information about the discovery of the Obama-era documents that had been in Biden's possession, including all records and communications regarding the Justice Department's investigation.
Rep. James Comer (R-KY), chairman of the House Oversight and Accountability Committee, has also demanded the White House turn over all information related to its searches that have uncovered classified documents at Biden's home and former office.
Biden recently commented on the saga, telling reporters there is "no there there".
"We found a handful of documents were filed in the wrong place," Biden said. "We immediately turned them over to the Archives and the Justice Department."