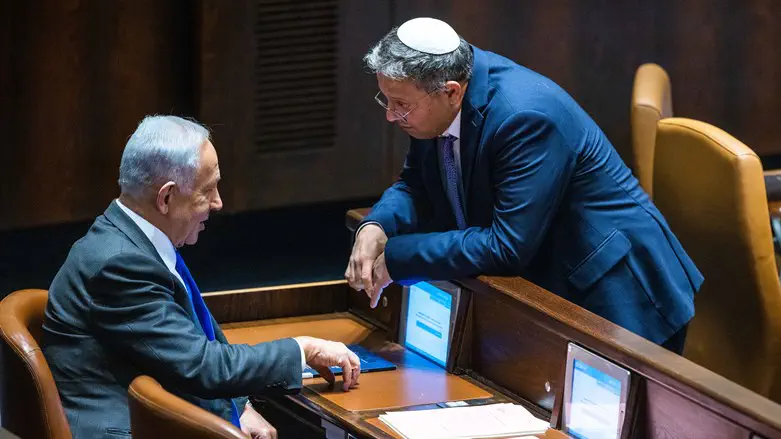 Netanyahu and Ben-Gvir
Olivier Fitoussi/Flash90
Prime Minister Benjamin Netanyahu and National Security Minister Itamar Ben-Gvir clashed at a special security discussion held today regarding the question of whether to allow a march by right-wing activists at the Damascus Gate in light of fears of a potential security escalation, Channel 13 News reported.
During the discussion, the head of the Shabak asked the cabinet members to "prevent confrontations and gatherings of both sides during this sensitive period". Tonight a march of right-wing activists is planned in Jerusalem, and this request received the support of Defense Minister Yoav Gallant and the IDF Chief of Staff.
Ben-Gvir asked: "By what authority will you prevent the gathering at the Damascus Gate?". The prime minister's military secretary, General Avi Gil, replied that there was a possibility that a greater security risk would be avoided.
The Prime Minister intervened: "We did it in the past and we will do it today." Ben-Gvir responded: ''I don't think this is what will lead to a flare-up. I am willing to accept it if the law is the same for Jews and Arabs.''
Netanyahu warned: "We are sitting on a barrel loaded with gunpowder. I don't want to bring the match to the last centimeter."
Jerusalem police forbade Baruch Marzel and other right-wing activists from marching with Israeli flags at the Damascus Gate.