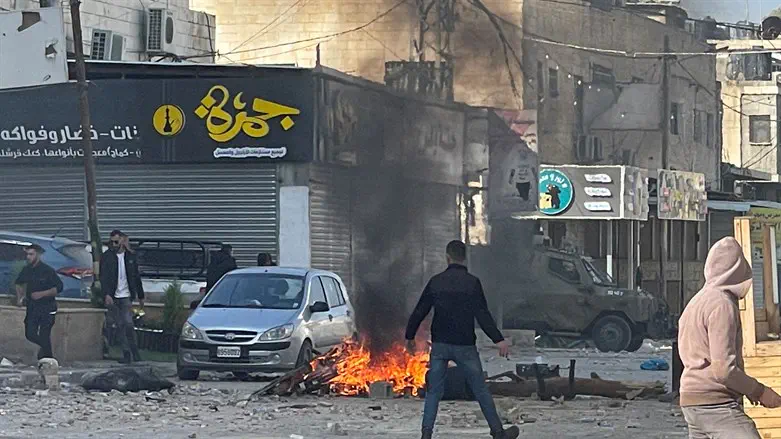 Scene from this morning's operation in Jenin
REUTERS/Ali Sawafta
A senior IDF officer has revealed further details of Thursday morning's successful counterterrorism operation in the Jenin refugee camp, in the course of which terrorists actively plotting a major attack were eliminated.
"We eliminated a ticking time-bomb in the form of Islamic Jihad terrorists who were planning a series of attacks on the homefront," the officer said.
Although security forces attempted to penetrate the camp without being detected, terrorists were still expecting them and set up a warning system as well as 30 separate barricades to block their entry. As soon as the IDF and special forces officers were spotted, gunfire broke out, first targeting a jeep carrying a senior IDF commander.
Meanwhile, special forces officers entered the camp disguised as Arabs, concealed on a truck carrying milk. They congregated in the vicinity of the home of one of the wanted terrorists, surrounding the building. A huge fire-fight broke out during the course of which at least three terrorists were killed by Israeli fire, terrorists belonging to Islamic Jihad who had been in the process of planning to execute a series of "significant" terrorist attacks.
According to Palestinian reports, eight Palestinian-Arabs were killed, including a 60-year-old woman, and several others were injured, some of them seriously. With regard to the civilian allegedly caught in the crossfire, an IDF spokesman said that, "We are familiar with the claim that a Palestinian civilian was wounded. The circumstances of the incident are under investigation."
In addition, two wanted terrorists were identified as they attempted to flee from the scene. Security forces fired at them and they were neutralized, according to sources. "One of the wanted men who had barricaded himself inside the building later gave himself up to security forces at the scene. IDF engineers then entered the building in order to set off a controlled explosion of two bombs that the wanted men had been planning to use. A fourth wanted man was located within the building and he too was neutralized."
IDF sources added that, "A number of armed men were identified and hit. We are examining allegations that additional people were killed due to the exchange of fire. No injuries were identified among security forces."
Meanwhile, IDF forces in the area are being bolstered by paratroopers, due to warnings of revenge attacks. Furthermore, Iron Dome batteries are being readied in the event of significant missile fire from Gaza.
Responding to the morning's events, the office of PA Chairman Mahmoud Abbas said that the IDF operation was a "premeditated crime and slaughter," and that it was calling on the international community to intervene. According to the Al Jazeera network, Islamic Jihad issued a warning to the Israeli government that if the incursions into Jenin do not cease, "all options are open."