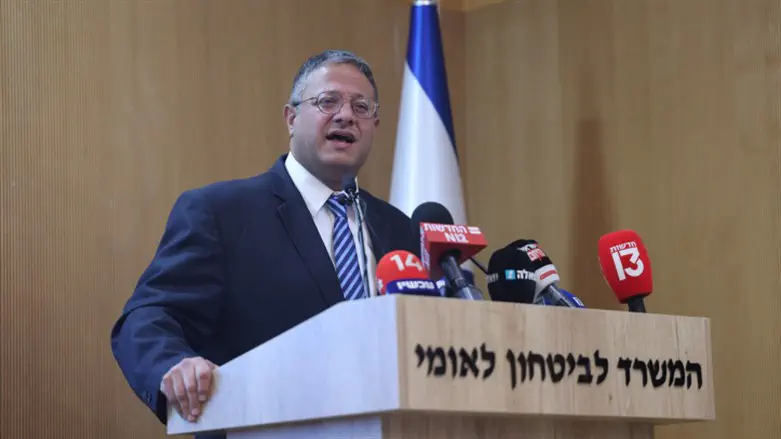 Ben-Gvir
Yonatan Sindel/Flash90
National Security Minister Itamar Ben-Gvir and Police Commissioner Kobi Shabtai held a press conference Tuesday evening in which they announced a reform to strengthen the Israel Police in case the riots which rocked Israel during the Gaza conflict of May 2021 return.
Ben-Gvir said at the start of the press conference: "Since I took office, I have sat in on many situational assessments, preparatory discussions, in all the situational assessments I have held, a great danger arises for Israel's national security - the main threat we face, the scenario I hear from most sources, Guardian fo the Walls 2, is at our doorstep. Such a scenario demands one response - the strengthening of the police force and the establishment of a national guard. For many years the police have suffered from a severe budget deficit, in recent years there has been a painful wave of departures. I greatly appreciate my partner Kobi Shabtai who works day and night for Israeli's personal security and stretches the police to the limit of their ability."
According to him, the police officers are not compensated properly for their service. "We have wonderful police officers - but the truth must be told. I received paychecks, a beginning investigator in the police earns 6,429 NIS per month, a detective 7,388 NIS and starting patrol officer 7,350 NIS. The heroic police officers work nights and days, nights and holidays and return home with low pay. No wonder that in 2021 twice as many resigned as in 2020. In the last year, the number of resignations jumped to 1,033 police officers."
The minister said that "Two weeks ago I patrolled Be'er Sheva. There are a total of seven patrol cars in all of Be'er Sheva. Do you understand what this means? I was approached by a Rahat resident who told me about the Wild West in the south and that his eight daughters do not sleep at night due to the dangers. Moshe Vaknin from Kiryat Shmona woke up to a black morning - his truck was set on fire only because he refused to surrender to the gang. During Operation Guardian of the Walls, I visited Jewish neighborhoods, I saw citizens who feared for their lives, as if we were in 1929 Hebron. I have heard worried citizens in the past six months - it is clear to me that the time has come to make a change in direction and meaning in order to strengthen personal security, to return governance to the citizens of Israel. We all deserve security."
He warned of a potential catastrophe and said: "It's not just a feeling, Guardian of the Wall 2 is a dangerous scenario that needs to be prepared for. Since I took office I have met with many senior officials, there have been many discussions with my partners including Kobi Shabtai. After hard work we have come to a solution together that will return the reins of power and will restore personal security," he added.
He presented the reform and said: "Our plan is divided into two parts. The first - strengthening the police. We will raise salaries for all police officers, an increase of between 20 and 40% in salary. We will allow the police officers to exist with dignity and recruit more police officers. I call on all police officers - come home. This is your home. In addition, we will recruit 4,000 police officers in the next two years."
The second part, he said, would be the establishment of a national guard to deal with disturbances such as the May 2021 riots.