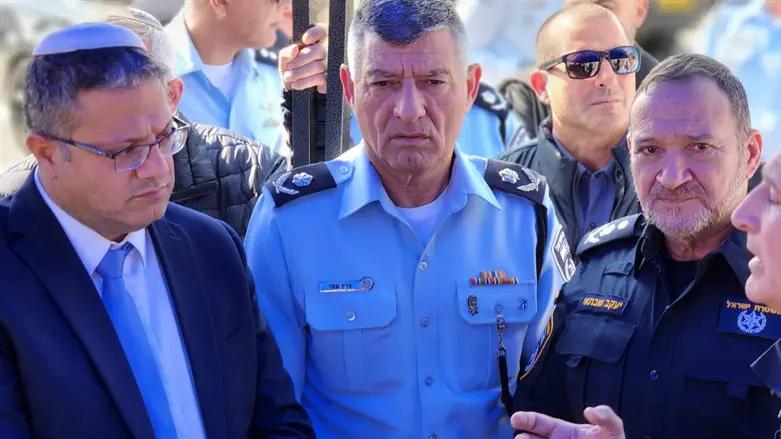 Itamar Ben-Gvir with Police Commissioner Kobi Shabtai
Public relations department
National Security Itamar Ben-Gvir has requested an explanation from the Police Department after it confiscated a weapon from a farmer who was being extorted by criminal elements.
The weapon was confiscated earlier this week after four criminals, one armed with an ax, trespassed on the "Milk and Honey" farm in the Golan Heights. The criminals threatened the farm's owner, who pulled out his pistol to defend himself.
The criminals were arrested at the scene, but police later summoned the farmer to the local precinct and told him that he was required to turn in his weapon until the conclusion of the investigation into the incident.
The "incident" referred not to the threats of the criminals, but rather, a complaint submitted by the criminals themselves, the Arabs from the town of Tuba-Zangariyye who had infiltrated his property and then filed a complaint against the farmer for threatening them with his pistol after he waved it at them as one ran at him with an ax.
The farmer contacted National Security Minister Ben-Gvir, who immediately contacted the police demanding an explanation. The police then notified the Minister that they were withdrawing their request that the farmer hand in his weapon and that he would be permitted to retain it in his possession.