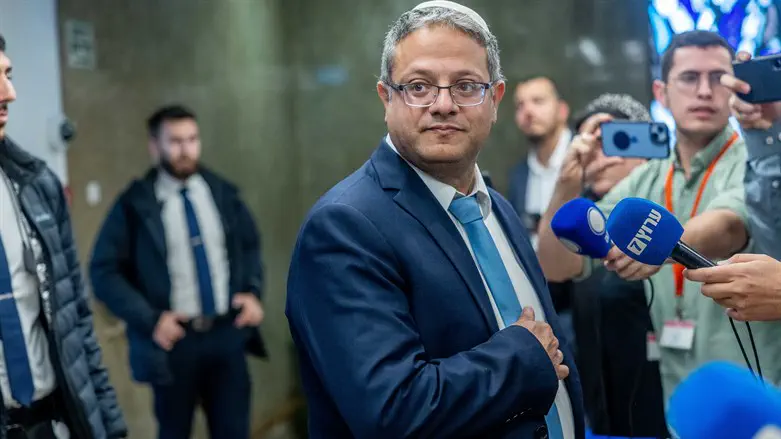 National Security Minister Itamar Ben-Gvir
Yonatan Sindel/Flash90
Released terrorist Maher Younes was greeted in the town of Arara in northern Israel with cheers and candy. Still, as of now, no significant celebrations have been reported, seemingly due to demands by the police.
Maher Younes, one of the terrorists involved in the murder of IDF soldier Avraham Bromberg, was released from prison on Thursday after 40 years behind bars. Upon his release, the terrorist stated: "The Israeli rules and instructions won't prevent our joy, and we will not surrender to the occupation's policies. I call on all our people to unite to bring us to an independent and free homeland."
A large force of police is stationed this morning on the outskirts of the village of Wadi Ara and near the family's home to prevent celebrations from being held.
Prior to his release, police summoned the terrorist's family and explained that they were not permitted to set up a tent for visitors at their home. The family committed not to hold celebrations and were warned of the repercussions, including for flying the PLO flag.
National Security Minister Itamar Ben-Gvir has said that he is satisfied with the police's conduct following the release of Younes.
"Police did not allow the tents of terrorism supporters to be erected, PLO and Fatah flags to be waved in the streets, martyr plays, or terror supporter meetings. I hope the police will continue to maintain control of proceedings and that the terrorist will only receive hugs inside his home until we pass a law that will ship him off to Syria," stated Ben-Gvir.