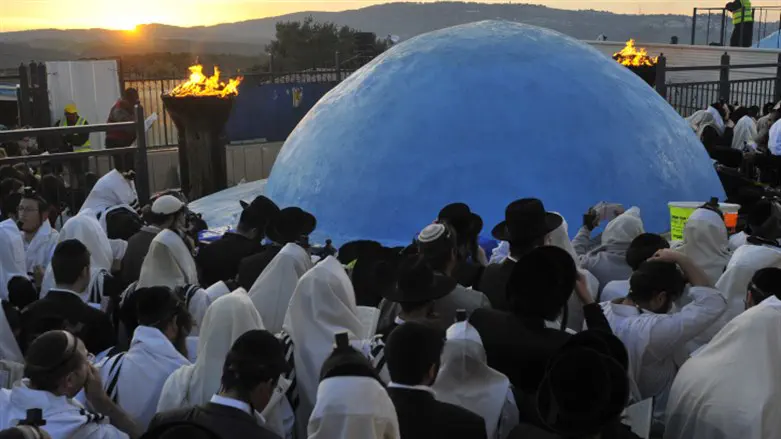 Meron
Flash 90
National Security Minister Itamar Ben-Gvir insisted that the responsibility for security at the annual Lag B'Omer celebrations in Meron must remain with the police in an interview with Israel National News - Arutz Sheva Tuesday.
"I greatly appreciate Minister Meir Porush who was chosen to manage the festivities in Meron, but human lives come first and the security responsibility should be with the police," emphasized Ben-Gvir.
He added: "I made it clear to Minister Porush that there will be full cooperation from both the National Security Ministry and the Israel Police and all the security agencies. In the end, if there is a security incident that endangers human life, there is no doubt that the police should take control of the management of the incident."
Another dispute between Porush and Ben-Gvir concerns the management of the Ammunition Hill Heritage Site. The Otzma Yehudit party believes that the responsibility for the site should rest with Heritage Minister Rabbi Amichai Eliyahu, while Porush believes it should rest with the Jerusalem Ministry which he leads.
In 2021, 45 people were crushed to death during the Lab B'Omer celebrations in Meron in the worst civilian disaster in Israel's history.
Immediately upon the formation of the current government, the commission of inquiry into the Meron disaster appealed to Prime Minister Benjamin Netanyahu and demanded that the government act now to prepare for this year's celebration in accordance with the recommendations submitted by the commission about a year ago.
Sources close to Minister Porush said that "there is no responsibility without authority. If they do not approve the appointment of the minister in charge in accordance with the recommendations of the investigative committee, there is no point in taking the position."
According to the sources, Porush will refuse to be placed in charge of the Meron celebrations if he is not granted the full powers necessary to hold the celebration.