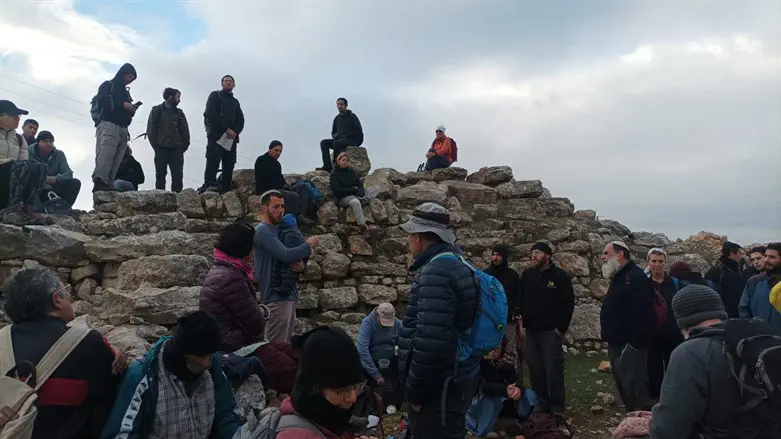 Jews return to Biblical path
Uri Arnon
Last week, dozens of hikers traveled on the "Sefer Ha'Midmar Road," which connects eastern Gush Etzion to the Hebron Hills. This is the first time since the signing of the Oslo accords that Jews were allowed to utilize the road, with hopes that the road will remain open to hikers permanently.
The trip set off from "Mitzpeh Michael" near the community of Pnei Kedem, with the help of the "Amitim Le'Tiyulim" group, the Gush Etzion Regional Council, and the Gush Tourism Division.
The Sefer Ha'Midmar Road is an ancient Biblical path, most likely paved in Roman times, possibly serving as the main route connecting the Hebron Hills to Ein Gedi, near the Dead Sea.
Despite the extensive destruction and illegal quarries established by Arabs under the Palestinian Authority, it is still possible to see sections of the 2,000-year-old paved route.
Under the Oslo Accords, the entire road was designated as part of Area "C" under full Israeli control, and in fact a train line was planned on the route as part of the National Railway Line. However, those plans never came to fruition as a result of massive illegal building by PA Arabs, isolating the area from the rest of the communities in eastern Gush Etzion.
Last week's trip was led by Uri Arnon, a Pnei Kedem resident, Dr. Yosef Speizer, a member of the Jerusalem City Council, and Dr. Yoram Elmakias, from Kiryat Arba.
Gush Etzion Regional Council Chairman, and Yesha Council Head, Shlomo Ne'eman said: "The time has come to blot out the illogical borders brought upon us as a result of the terrible Oslo Accords. Every step in Gush Etzion is a connection to our history, and we won't let anyone detach us from our history, nature, and our country. The Sefer Ha'Midbar Road is an important piece of our history, crucial to Judea and Samaria, and a buffer which safeguards the area. The hostile Arab takeover of areas like this are intended to choke off Jewish communities. We hope that many more similar hikes take place in this area of our country."