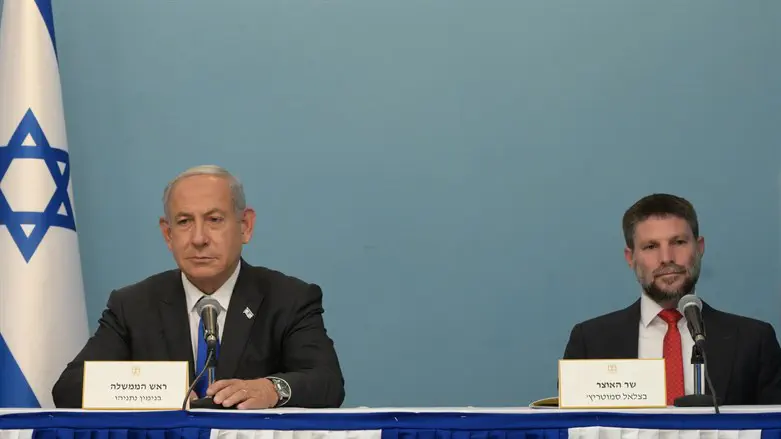 Netanyahu and Smotrich
Amos Ben Gershom/GPO
Prime Minister Benjamin Netanyahu and Finance Minister Bezalel Smotrich presented their plan to combat the rising cost of living Wednesday evening.
Among the main points of the plan: a freeze on property taxes for one year, the cancellation of the recent increases in fuel prices, an average cut of 70 percent in the price increase of electricity, a cut of 70 percent in the price increase of water, and a complete cancellation of the price increase in electricity for about 100,000 small and medium-sized businesses.
Netanyahu stated at the beginning of his speech that "the government led by me has come to work. I think all citizens feel this. We are taking care of everything in the important areas, the first area is the cost of living. In the last year and a half, the economy has entered an inflationary spiral. Inflation and interest rates are skyrocketing. The price affects the families because every Israeli family has a mortgage. It's a very big burden. The government led by me has made the war on the cost of living a priority and we are announcing a series of measures."
"It is important to say that they will immediately reduce the monthly expenses of every family in Israel and slow down the increase in prices," the Prime Minister emphasized. "We have to start turning this around right now. We led Israel's economy in an excellent way, a free market economy. Sometimes you have to take special measures for a limited period of time. We are doing time-bound actions and putting sticks in the wheels of inflation," he added.
Netanyahu said that further economic measures such as the housing crisis would be addressed in the government's budget in the coming months..