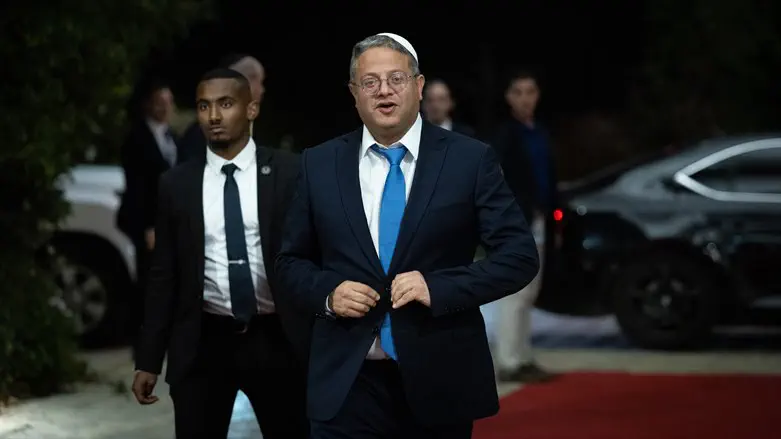 Itamar Ben-Gvir
Yonatan Sindel/Flash90
National Security Minister Itamar Ben-Gvir addressed his first meeting with the commanders of the Israel Police and the calls for protests against the actions of the new government during the weekly Otzma Yehudit faction meeting Monday.
"It was a good meeting, they are serious people, and very, very high-quality and dedicated personnel for the State of Israel," Ben-Gvir said. "I told them that we would give them the backing, both in legislation and budgets, but at the same time I said that with authority comes responsibility. In my opinion, the incident that took place surrounding the release of the terrorist Karim Younes is an incident that is a mistake by the police that must not be repeated."
"It cannot be that lawbreakers incite against the State of Israel, it cannot be that in our State of Israel there will be words of praise for terrorists, a celebration of martyrs like was done, and it is no secret that I gave instructions to the police to intervene, act, arrest, and stop, and next week when the next terrorist is released I hope this failure will not be repeated.''
Ben-Gvir emphasized: "This is the policy I implement as minister, to strive for contact with the terrorists, with the enemies, with the lawbreakers."
Turning to the left-wing demonstration in Tel Aviv last Saturday evening, Ben-Gvir said: "And speaking of lawbreakers, I will refer to what we saw in Tel Aviv, in that demonstration. I am in favor of demonstrations, in favor of freedom of speech, but we have also seen serious damage to democracy, incitement against minister Yariv Levin, blocking roads. I told the command staff of the police, I am in favor of demonstrations, but those who block a road and those who riot, should be arrested and a demonstration in Tel Aviv is treated the same as a demonstration in Jerusalem, a demonstration of the left is treated the same as a demonstration of the right."
"These are my demands from the Israel Police, to act on the issue of demonstrations in an equitable manner. Freedom of speech yes, signs yes, but freedom of speech is not freedom of incitement. Freedom of speech is not a magic word that opens every door, so my demand from the police on this issue as well, is to treat demonstrations in an equal manner. There are many more things, there are many more requirements and they will be announced later.''