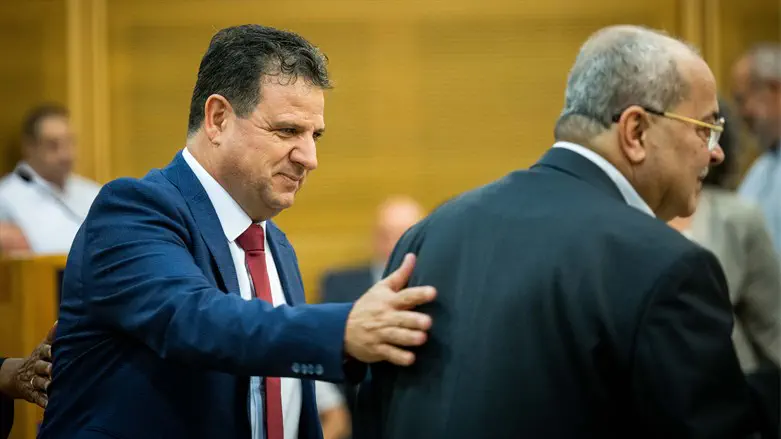 Ayman Odeh and Ahmad Tibi
Yonatan Sindel/Flash90
Hadash-Ta'al chairman MK Ayman Odeh today (Monday) slammed former Prime Minister Yair Lapid and accused his government of murdering over 100 Palestinian Arabs.
"You've gotten used to having 'nice' Arabs, your government killed 114 Palestinians, it's a shame we're not the ones who brought your government down," Odeh said. "We're against the arrogance of the center-left."
MK Ahmad Tibi also criticized Lapid, saying: "[They accuse us] of cooperating with the Likud. I will share with you here the secret of the one who crawled to [Likud minister Yoav] Kisch in the last two weeks and held talks and negotiations with him in the hopes of improving the Likud's offer to it - it's Yesh Atid."
Earlier, Tibi compared Israeli police officers to terrorists during a hearing of the Knesset's House Committee on a proposed legislation which would enable the Interior Ministry to strip convicted terrorists of their Israeli citizenship.
"Would you ever dream of taking away the citizenship of the prime minister's assassin? And when it comes to the murder of Arabs, it's different. This is a populist bill," Tibi said.
"There are police officers who have murdered Arabs, and then get promoted."