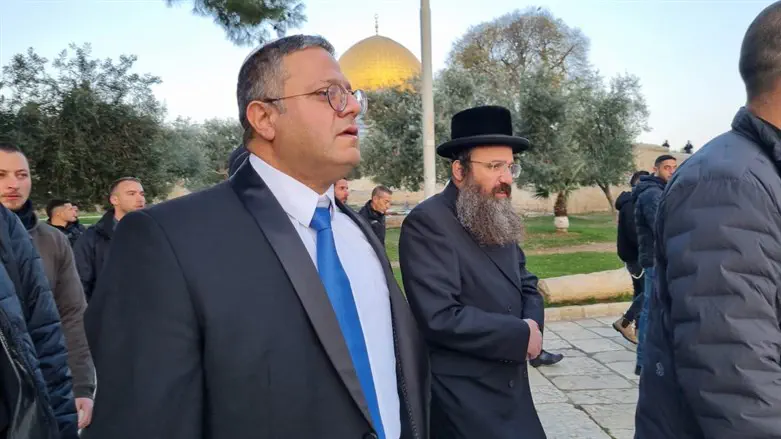 Itamar Ben Gvir on the Temple Mount
Spokesperson
Turkey's Foreign Minister, Mevlut Cavusoglu, told Israeli counterpart Minister Eli Cohen on Wednesday that National Security Minister Itamar Ben Gvir's visit to the Temple Mount is "unacceptable."
"We find Israeli National Security Minister Itamar Ben Gvir's provocative actions against Al-Aqsa Mosque unacceptable," the Foreign Ministry said in a statement quoted by the Anadolu news agency.
Turkey expects "all kinds of provocative actions to be avoided," Cavusoglu told Cohen, underlying the importance Ankara attaches to preserving the status of Al-Aqsa Mosque.
He also congratulated Cohen upon taking office.
Cohen wrote on his Twitter account of the call, "I have now spoken with the Turkish Foreign Minister Mevlut Cavusoglu, who congratulated me on taking office."
"We talked about the importance of continuing to promote relations between the countries, with an emphasis on economic relations," added Cohen.
"In addition, I said that Israel will maintain the status quo on the Temple Mount, and Minister Ben Gvir's visit does not constitute a policy change. Freedom of worship in Jerusalem will be preserved for all religions," he stated.
Ben Gvir's visit to the Temple Mount on Tuesday was widely condemned by the Arab world and also by the United States.
State Department spokesperson Ned Price said at Tuesday's daily briefing, "We are deeply concerned by the visit of the Israeli minister at the Temple Mount/Haram al-Sharif. This visit has the potential of exacerbating tensions and lead to violence."
The United Arab Emirates and China later in the day asked the UN Security Council to meet publicly to discuss recent developments at the Al-Aqsa Mosque compound. The meeting is to take place on Thursday.
Turkey and Israel just recently announced they would normalize relations by returning the ambassadors and consuls.
Last week, Israel's Ambassador to Turkey, Irit Lillian, presented her credentials to Turkish President Recep Tayyip Erdogan.