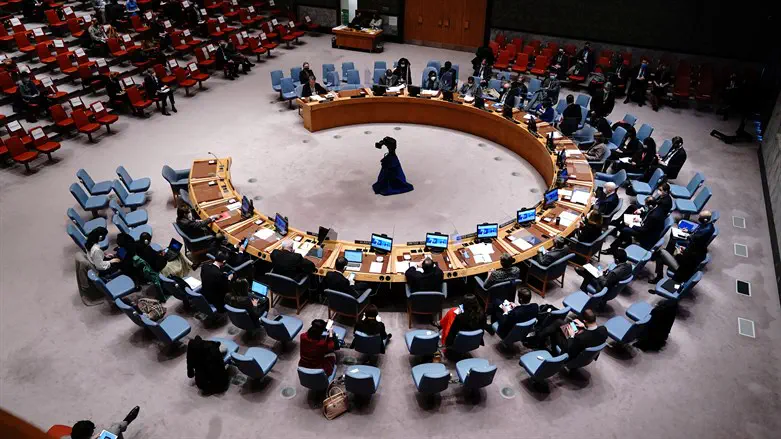 UN Security Council
Reuters/Carlo Allegri
The United Arab Emirates and China have asked the UN Security Council to meet publicly to discuss recent developments at the Al-Aqsa Mosque compound, diplomats said on Tuesday, according to the Reuters news agency.
The meeting is likely to take place on Thursday, the report said.
The request for the meeting follows the visit of National Security Minister Itamar Ben Gvir to the Temple Mount on Tuesday morning.
Ben Gvir arrived at the Temple Mount under heavy security that included his personal bodyguards and other police officers.
Israeli security officials had warned Prime Minister Benjamin Netanyahu that Ben Gvir's visit could lead to a major escalation with terrorist forces in Judea, Samaria, and Gaza.
However, an official in the Prime Minister's Office rejected claims that the visit constitutes a change in the status quo at the site, the holiest in Judaism.
"Prime Minister Benjamin Netanyahu is committed to strictly maintaining the status quo, without changes, on the Temple Mount. We will not be dictated to by Hamas. Under the status quo, ministers have gone up to the Temple Mount in recent years, including Public Security Minister Gilad Erdan; therefore, the claim that a change has been made in the status quo is without foundation," the official said.
A spokesperson for the US Embassy in Israel condemned Ben Gvir's visit and said that Ambassador Tom Nides "has been very clear in conversations with the Israeli government on the issue of preserving the status quo in Jerusalem's holy sites. Actions that prevent that are unacceptable."
A White House National Security Council spokesperson told Axios later on Tuesday that the Biden administration expects Netanyahu to follow through on his written commitment to the governing platform, which calls for the preservation of the status quo in the holy places in Jerusalem.
"Any unilateral action that jeopardizes the status quo is unacceptable," the NSC spokesperson said.
State Department spokesperson Ned Price said at Tuesday's daily briefing, "We are deeply concerned by the visit of the Israeli minister at the Temple Mount/Haram al-Sharif. This visit has the potential of exacerbating tensions and lead to violence."