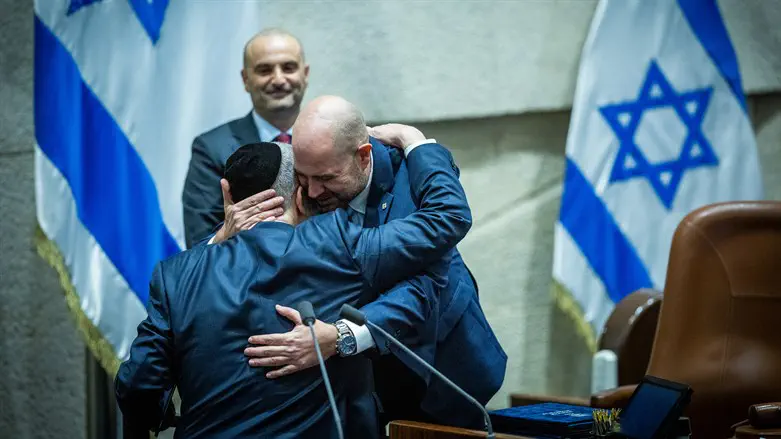 Deri hugs Amir Ohana
Yonatan Sindel/Flash 90
Interior and Health Minister and Shas chairman Aryeh Deri criticized the haredi Knesset members who hugged Knesset Speaker Amir Ohana, the first openly gay Speaker of the Knesset, after his speech on the day of his election to the position.
In a closed session with Shas Knesset members, Deri said, "Netanyahu tricked me with the appointment of Amir Ohana, we thought it would be Yoav Kisch or Dudi Amsalem. We made a mistake in our conduct in the plenary."
Deri shared with the Shas MKs that he ran away from the plenum after Ohana's speech: "I ran away right after the speech, I don't understand the haredi MKs who went to hug him after that speech."
Journalist Ishay Cohen, who revealed the quotes from the Shas MKs' meeting, wrote on his Twitter account that Minister Deri denies the statements.
"However," added Cohen, "three MKs who were present at last night's meeting confirmed that this is indeed what was said. The MKs also said that Deri even scolded one of the MKs who ran to hug Ohana after the speech."
Meanwhile, Channel 12 News on Monday aired a recording from the Likud Party's faction meeting, in which Likud MKs can be heard debating how strongly to condemn statements by leading rabbis blasting the appointment of Ohana as Speaker of the Knesset.
Newly-appointed Minister of Culture and Sports, MK Miki Zohar, noted, "From the moment the Likud decided to put a person from the gay community at the head of the Knesset, we stated conclusively that we would not allow any harm to any population group in Israel. We will not change the character of the State, as our political opponents are fond of saying."
MK David Bitan joined others in condemning the attacks on Ohana. "[These] are not acceptable, and we all need to have our say on this issue. We need to protect Ohana because he represents the Likud with all due respect."
"There are backwards statements and it doesn't matter who said them. The public should understand that we see them as such," added Minister of Agriculture Avi Dichter.
Ohana on Sunday responded to recent criticism that has been directed at him.
"It is better that I fail a hundred times in unrequited love of Israel than fail once in baseless hatred of Israel," he tweeted.
Earlier on Sunday, Prime Minister Benjamin Netanyahu criticized a tirade against Ohana by the head of the Kisei Rahamim Yeshiva, Rabbi Meir Mazuz.
"I strongly condemn the statements against the LGBT community and the Speaker of the Knesset, Amir Ohana. Every person is created in the image of God. This is the principle that was brought to humanity thousands of years ago by our people and it is the principle that guides us today as well," Netanyahu said.