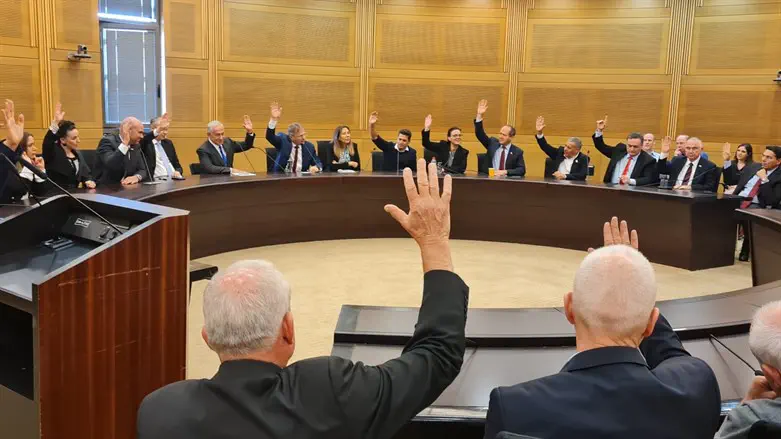 Vote to approve Ohana's appointment
Spokesperson
In a recording from the party's faction meeting aired by Channel 12 News, Likud MKs can be heard debating how strongly to condemn statements by leading rabbis blasting the appointment of Amir Ohana as Speaker of the Knesset. The party is trying to decide how do go about defending Ohana, who is openly gay, without irking their coalition partners to the right - especially the haredi parties.
Newly-appointed Minister of Culture and Sports, MK Miki Zohar noted: "From the moment the Likud decided to put a person from the gay community at the head of the Knesset, we stated conclusively that we would not allow any harm to any population group in Israel. We will not change the character of the State, as our political opponents are fond of saying."
MK David Bitan joined others condemning the attacks on Ohana. "[These] are not acceptable, and we all need to have our say on this issue. We need to protect Ohana because he represents the Likud with all due respect."
"There are backwards statements and it doesn't matter who said them. The public should understand that we see them as such," added Minister of Agriculture, Avi Dichter.
Ohana, himself, called to calm the spirits and refrain from lashing out at rabbis who attacked his appointment. "Believe me, I'm strong," he stated. "I made a rule for myself not to attack rabbis, and I suggest you adopt this rule. Believe me, within a day or two, all of this will blow over, but I really appreciate your sentiment. Thank you."
The closed session also dealt with another issue - how to handle the opposition headed by Yesh Atid's Yair Lapid. MK Zohar urged party members to avoid unnecessary confrontation with their adversaries on the Left. "We need to think carefully about poking them in the eye. It won't get us anywhere," he was quoted as saying.