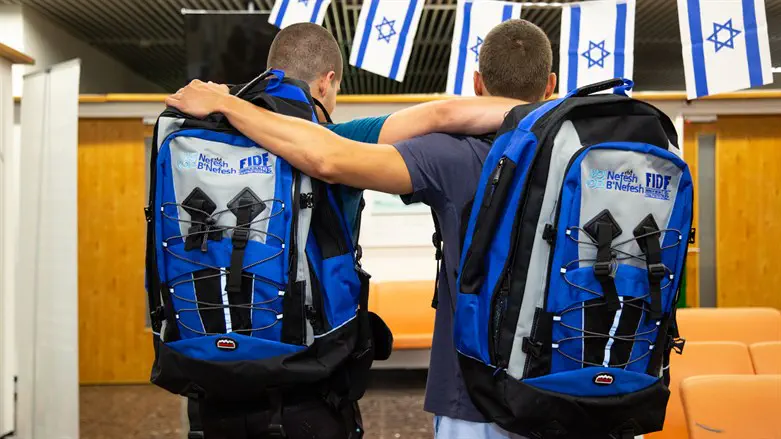 Ari and Ron
Efrat Farajon
Twin brothers who will enlist in an elite IDF unit were among the 48 new olim (immigrants) from across North America who landed at Ben Gurion International Airport on an El Al Airlines flight last week.
The olim arrived in Israel with the help of Nefesh B'Nefesh, which is marking its 20th anniversary this summer, and in cooperation with the Ministry of Aliyah and Integration, The Jewish Agency for Israel, Keren Kayemeth LeIsrael, and JNF-USA.

Upon making aliyah (immigrating to Israel), twins Ari and Ron, 18, are required to serve in the IDF. They will be drafted into the prestigious "Shayetet 13" unit of the Naval Brigade and will be supported by the FIDF – Nefesh B'Nefesh Lone Soldiers program.

Ari and Ron, who recently graduated from high school, were born in New York to Israeli parents. As a professional swimmer, Ari was ranked 10th in the US in butterfly swimming and broke a world record in the CrossFit "Murph" workout. For four years, Ron was part of a rowing team that was ranked among the top 10 teams in New York.
"We grew up in a very Zionist home and, despite the geographical distance, we were instilled with a deep love for the country and Jewish homeland," said twins Ari and Ron. "We also have a sister who is currently studying medicine in Israel. Both of our parents served in the army. Our father was a soldier and an officer in one of the IDF's commando units, but he shared with us that his original dream was to draft to Shayetet 13."
"After examining all the options we were given, we decided that the Navy is where we want to be, and we want to reach the highest possible level – Shayetet 13. We are really excited to make aliyah and give back to the country through a meaningful military service that will definitely give us a lot of tools for life and shape us as adults."

Rabbi Yehoshua Fass, Co-Founder & Executive Director of Nefesh B'Nefesh, said, "These two brothers are truly inspiring, and I am sure that they will go far during their required military service and become assets to Israel's security. Our program is geared to care for all the IDF lone soldiers, including these special brothers, throughout their mandatory military service and beyond."

"We are inspired by the dedication of Ari and Ron and are so proud of them for contributing some of the best years of their life to defend the Jewish State. FIDF will support them, as we do all Lone Soldiers, throughout every step of their service," said Steven Weil, CEO of FIDF.
Ari and Ron
Efrat Farajon