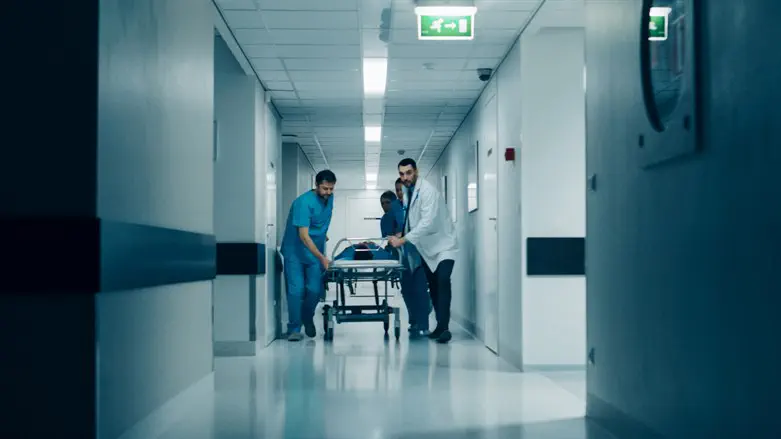 Hospital
iStock
Daoud Zabuidi, the terrorist who opened fire towards soldiers in Jenin on Friday, died of his wounds at Rambam Medical Center in Haifa Sunday morning.
Daoud was the brother of Zakaria Zubeidi, an Al Aqsa Martyrs Brigade terrorist responsible for a terrorist attack in Beit She'an in which six people were killed and one of the terrorists who briefly escaped from the Gilboa Prison last year.
Zubeidi was transferred to Rambam on Friday while being anesthetized and placed on assisted breathing, and was treated in serious condition. He was treated in intensive care and this morning was pronounced dead.
Zubeidi was injured during an exchange of gunfire in Jenin by a bullet that penetrated his abdomen. He was evacuated by the Red Crescent to Jenin Hospital and from there transferred to Rambam at the request of the Palestinian Authority.
Otzma Yehudit chairman MK Itamar Ben Gvir arrived on Saturday night at Rambam Hospital in Haifa to protest the hospital's treatment of Zubeidi.
"It is delusional that a terrorist who shot at soldiers and Yamam officers is being treated at our expense in an Israeli hospital," said Ben Gvir.
As he entered the intensive care unit, he said, "Only in Israel does a terrorist shoot at fighters and then receives life-saving treatment. We have become a joke in the Middle East. I am now going in to see the conditions, to see what he is getting. This is totally crazy, only in Israel can they help and treat terrorists that a minute before had fired at fighters, fired at soldiers. We have lost it. It's simply crazy."