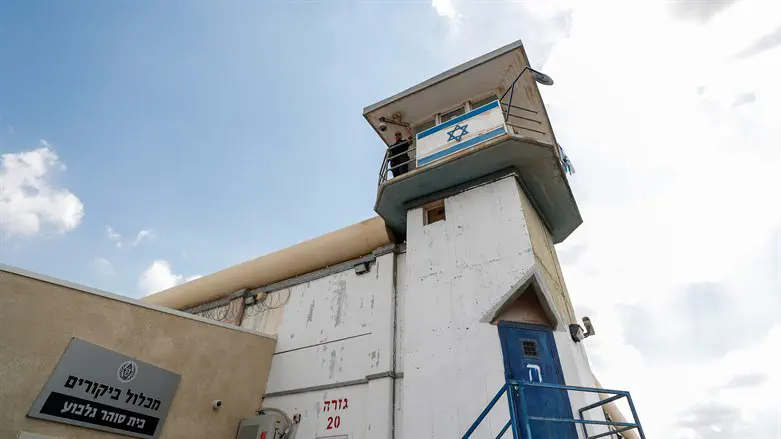 Gilboa prison
Flash90
The Gilboa prison break was a major source of embarrassment for the Israel Prison Service, and now a new development in the investigation of the event will likely only add to the IPS' disgrace, as it appears that a document it presented to the investigative committee may have been forged.
Six security prisoners escaped from the Gilboa prison early in September last year, via a tunnel they dug under the floor of their cell. Multiple breaches of regulations were discovered in the aftermath. The prisoners were ultimately recaptured.
On Sunday, the Israel Hayom newspaper reported that members of the state commission of inquiry established to investigate the incident have summoned the Deputy Prisons Commissioner, Motti Bitan, to explain how an intelligence document that appears to have been faked came to be submitted to the commission.
The document in question is titled: "Re-organization - Intelligence Division - March 2021," and purports to be from Deputy Commissioner Ofer Malka, head of the Intelligence "collection" department, and to have been written by a prisons officer by the name of David Tataro. The document is dated March 29, 2021, but no reference number appears on it. According to information obtained by the commission of inquiry, suspicion exists as to whether Malka and Tataro really were the authors of the document.
The commisson of inquiry, headed by former Justice Menachem Finkelstein, wrote: "This information - if it is true - is extremely worrying, as the commission cannot possibly fulfill its purpose unless it is provided with reliable information. It is now vital to determine the series of events that led to the production of this document, and also to identify the actual author."
As of the time of this writing it appears that the document submitted may not have been a forgery after all but simply a draft document that was submitted to the commission in error.
According to the IPS, "The incident has been investigated and [the suspicions] refuted in their entirety."
Click here to join the official Israel National News - Arutz Sheva WhatsApp groups