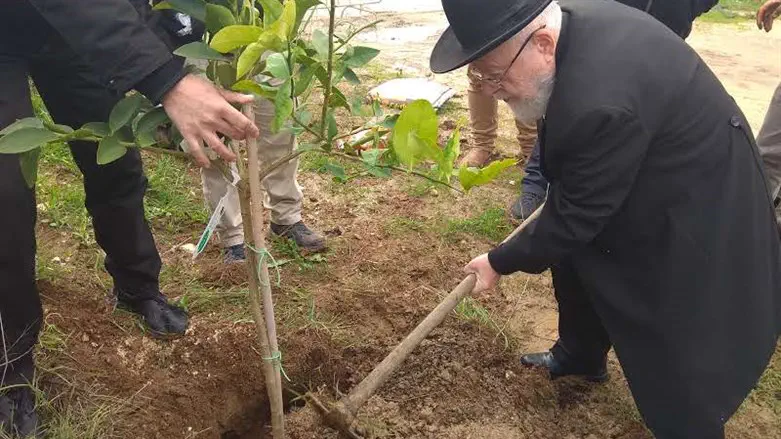 Rabbi Dov Lior planting trees
Torat HaMedina
Chairman of Otzma Yehudit, MK Itamar Ben Gvir, spoke last night with Rabbi Dov Lior and asked him how to proceed with the planting of trees this year, the Sabbatical Year, and if it is part of the struggle for the Land of Israel. He described the situation of planting trees in the Negev by the JNF and the anger it has caused amongst the United Arab List party.
The JNF's planting event has angered Arab residents in the area, who see the Zionist plantings as a takeover of territories they believe they own. For the part of the Israeli government, this is a Zionist project designed to strengthen Israeli governance in the Negev and prevent crime and trespass.
According to Ben Gvir, Rabbi Lior told him that for the struggle over the land of Israel it is allowed to plant trees this year. If there is a difficult struggle - due to the importance of the act, it is even possible to plant a fruit tree.
Ben Gvir also said that Rabbi Lior noted that "the war for the Land of Israel is a mitzvah from the Torah and should be treated as such."
MK Ben Gvir said that "the funniest thing in my eyes is that all peace activists have now become halachic arbitrators. I see Yariv Oppenheimer reacting on Twitter as if he were the Chief Rabbi of Israel."
"It is good that they learn a little Torah. We have Torah scholars with whom we ask their opinions and follow their instructions," said the chairman of Otzma Yehudit.
Meanwhile, MK Mansour Abbas (United Arab List) announced last night that he would not vote with the coalition as long as planting continues in the Negev. Construction and Housing Minister Ze'ev Elkin (New Hope) announced that he does not intend to stop the move despite threats to overthrow the coalition from the United Arab List.
Foreign Affairs Minister Yair Lapid wrote on his Twitter account that planting in the Negev could be stopped. "12 years of abandoning the Negev and neglecting the Bedouin problem will not be solved in one day," Lapid said. "The State of Israel should plant trees on state lands, but it must not harm the livelihoods of the area's residents."
Minister of Communications Yoaz Hendel responded to Lapid: "There must be no forgiveness for the riots in the Negev. The great lie that has taken place here in the last decade, the loss of governance in the Negev and Galilee and the laxity under the Likud rule is no excuse. We are in power and have no other option but to return sovereignty to the Negev. "