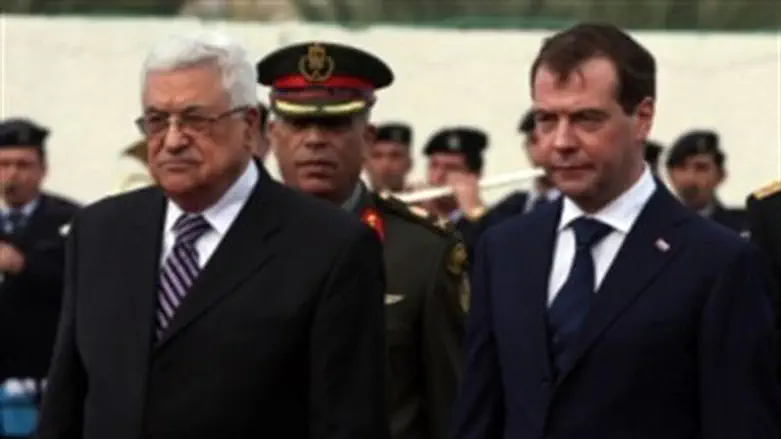 Abbas and Medvedev
Israel news photo: Flash 90
Russian President Dmitry Medvedev reassured Palestinian Authority Chairman Mahmoud Abbas Tuesday that his country recognizes the PA as a state. He is on his first-ever visit to the PA, but an Israeli Foreign Ministry strike prevented the preparations for his planned trip to Israel and has barred him from meeting with Prime Minister Binyamin Netanyahu and President Shimon Peres.
Media touted Medvedev's recognition, but it was déjà vu. "Russia stated its position on this issue in the 1980s, in the last century, and we fully support the inalienable right of the Palestinian people to the establishment of an independent, united and viable state with east Jerusalem as its capital," the Russian leader said in Jericho, where he dedicated a Russian-funded museum.
The Soviet Union was one of the first supporters of the PA from the time Yasser Arafat announced a declaration of independence in Algiers in 1988.
Medvedev is scheduled to meet with Abbas in Ramallah on Wednesday. The PA is counting on Russia to join several Latin American countries who have announced their recognition of the PA based on its demands for sovereignty over all parts of Jerusalem, Judea and Samaria that were restored to Israel in the Six-Day War in 1967. Only Chile did not mention borders in its recognition announcement.
Following Abbas' failure to force Israel's acceptance of all his preconditions and demands before negotiations begin, he is turning to the United Nations.
The PA's first step in its new strategy is to ask the United Nations Security Council to pass a resolution declaring that all Jewish communities in areas claimed by the Palestinian Authority are illegal settlements, although this is not so according to international law. The Council may discuss the resolution this week.
PA leaders rejected U.S. President Barack Obama's opposition to the unilateral move, which in effect is an official rejection of the "peace process" and leaves all the conflicts unsolved. However, the United States has not announced whether or not it will veto the resolution.
Palestinian Authority negotiator Nabil Sha'ath announced last week that it will seek recognition of a Palestinian state from the United Nations in September this year.