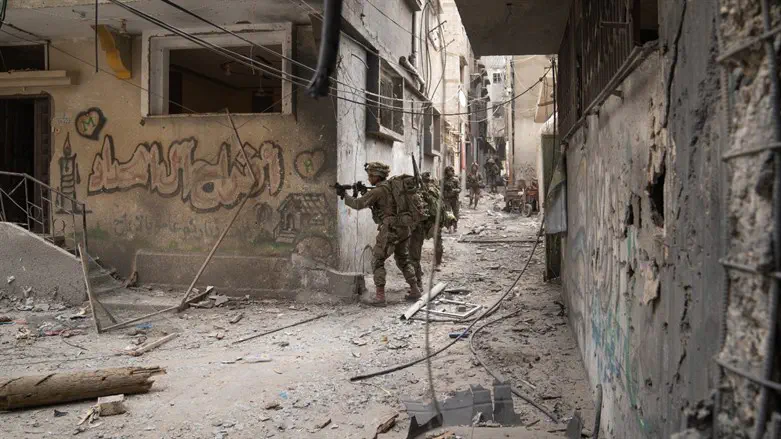 IDF forces in Gaza
IDF Spokesperson
Soldiers from the IDF's Combat Engineering, Infantry, and Armored Corps of the 36th Division are fighting to defeat the 'Zaytun' Battalion of the Hamas terrorist organization in Gaza, the IDF announced.
The 'Zaytun' Battalion is one of Hamas' main battalions operating in the area of 'Zaytun' in Gaza City. The troops have encountered an enemy that is entrenched in the heart of residential neighborhoods, hospitals, schools and kindergartens, and attacks from within civilian infrastructure.
The soldiers of the Golani Brigade led the beginning of the fighting against 'Zaytun'. The soldiers have engaged dozens of terrorists, conducting battles at close quarters with them, and have eliminated many of them, according to the IDF
The soldiers of the 188th Brigade took operational control of several key targets of the 'Zaytun' Battalion, including the command center of the Commander of the Gaza City Brigade and the battalion's central headquarters. The soldiers searched the area, located many weapons and at the end of the searches they destroyed the command center of the Commander of the Brigade. In addition, the soldiers directed an air strike in the area of the Zaytun which led to the elimination of terrorists. In recent days, the soldiers located a laboratory for the production of rockets, explosion materials, a tunnel shaft, a large number of weapons, and a UAV inside a mosque.
Soldiers of the Bislamach Brigade destroyed military targets of the Hamas terrorist organization in Zaytun, among them an Islamic Jihad weapons production post, where heavy and long-range rockets were located, as well as a lathe used for military purposes. The soldiers also destroyed tunnel shafts, took control of Hamas command centers, confiscated intelligence material used by the organization to learn about IDF soldiers, and struck additional buildings from which terrorists fired at IDF soldiers.
Commanding Officer of the 36th Division, BG Dado Bar Kalifa, said: "During the last days of the fighting of the 36th Division in Zaytun, we constantly encountered an enemy hiding behind children, women and civilian infrastructure. The soldiers of the division, including soldiers of the Golani Brigade, the 188th Brigade and the Bislamach Brigade, operated in a complex war zone in an urban area, exposed terrorists who were hiding in civilian areas and eliminated many terrorists. These achievements were made possible thanks to the close cooperation between the Infantry, Combat Engineering and Armored Corps and the IAF. We will not stop until we achieve all our goals, and we will continue to act to protect our home."
credit: דובר צה"ל
credit: דובר צה"ל
credit: דובר צה"ל
credit: דובר צה"ל
credit: דובר צה"ל
credit: דובר צה"ל
credit: דובר צה"ל
credit: דובר צה"ל
credit: דובר צה"ל