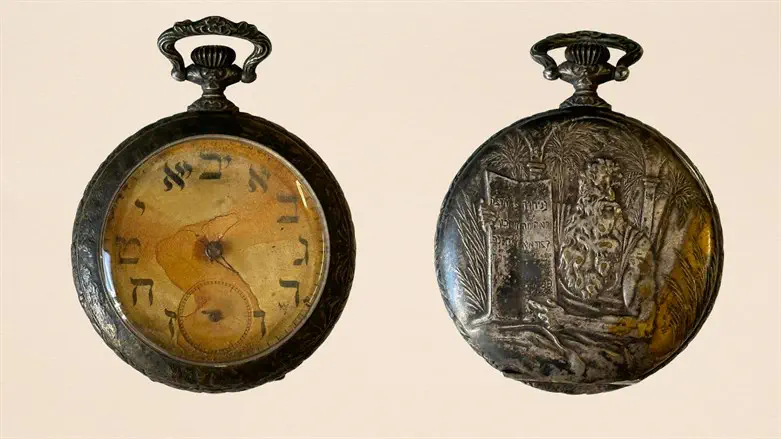 Sinai Kantor's pocket watch, with salt water stains showing the time the Titanic sank.
Courtesy Henry Aldridge and Son. Design by Jackie Hajdenberg
A pocket watch, frozen in time when the Titanic went underwater, went up for sale at an auction Saturday, with an expected sales price of nearly $100,000.
That's nearly 30 times the value of the ticket that Sinai Kantor, a Russian Jew on his way to New York City, spent for his ticket on the "unsinkable" ship.
Numbers on the Swiss-made, silver-on-brass watch are written in Hebrew numerals and its hands are nearly all deteriorated, due to saltwater exposure — but dried water marks indicate that time stopped at 2:25 a.m., about five minutes after the Titanic sank. Its back features an embossed, solemn, muscular Moses holding the Ten Commandments on a background of date palms.
The silver pocket watch once belonged to Kantor, 34, a second-class passenger traveling with his wife Miriam, 24. The pair were recently-married university graduates, on their way to New York where Kantor planned to sell furs while they studied dentistry and medicine, as part of a flood of Jewish immigration underway at the time.
Kantor paid £26 — worth about $3,100 today — for ticket No. 244367 on the Titanic, which they boarded on April 10, 1912, in Southampton, England.
"On the night of the disaster, like so many couples, they were forced to separate because of the 'women and children only' rule," Michael Findlay, former president of the Titanic International Society told the Washington Post. "Mr. Kantor had to remain behind."
Miriam alone was saved in lifeboat 12, according to information provided by the auction house. According to records collected by Titanic enthusiasts, she later became a U.S. citizen, taking the name Mary, and worked as a pharmacist in Brooklyn before being institutionalized at a psychiatric hospital where she spent the rest of her life before dying at 63 in 1950.
Kantor's body was recovered eight days after the accident. His pocket watch and some of his other possessions, including his Russian passport, a notebook, money, wallets, a telescope and a corkscrew were returned to his widow in May 1912 by the White Star Line, according to Henry Aldridge and Son, the auction house selling his possessions and other Titanic memorabilia. Kantor was buried at Mount Zion Cemetery in Queens.
His watch was previously sold at auction in 2018 for $57,500.
Of the timepieces that survived the shipwreck, most are stopped between 2:20 and 2:30, Findlay said. "It all depends when the individual went into the water," he said. "It's haunting."