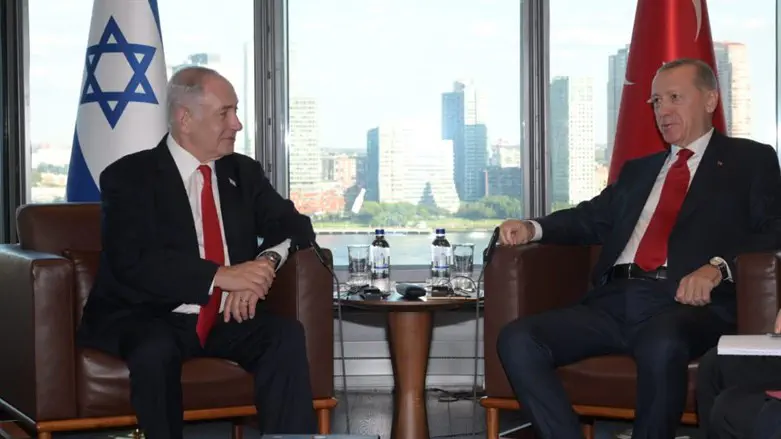 Netanyahu and Erdogan
Avi Ohayon/GPO
Prime Minister Benjamin Netanyahu met on Tuesday with Turkish President Recep Tayyip Erdogan on the sidelines of the UN General Assembly in New York.
This is the first meeting between the two leaders since 2016.
The Prime Minister said at the start of the meeting, "Our ties are improving."
The meeting lasted about an hour. The Prime Minister was accompanied by the head of the Mossad, David Barnea.
The Prime Minister's Office stated following the meeting that Netanyahu and Erdogan "discussed the promotion of relations in various fields as well as regional and international issues, including the normalization between Israel and Saudi Arabia."
It also added that Netanyahu thanked Erdogan for the cooperation between the security organizations of the two countries that resulted in thwarting the malicious intentions of terrorist groups to harm Israeli tourists in Istanbul.
In addition, the two mutually invited each other for visits to Israel and Turkey and it was agreed that these visits will be coordinated and will take place soon.
Netanyahu was supposed to visit Turkey this past July and meet with Erdogan, but canceled the visit after undergoing a procedure to implant a pacemaker.
Foreign Minister Eli Cohen met with the Turkish President this past February, and Netanyahu spoke with him on the phone in June and congratulated him on his election victory.
Israel and Turkey formally announced last year that they would normalize relations by returning the ambassadors and consuls, after years of tensions.
In December, Israel's Ambassador to Turkey, Irit Lillian, presented her credentials to Erdogan. In March, the new Turkish Ambassador to Israel, Şakir Özkan Torunlar, presented his credentials to President Herzog.