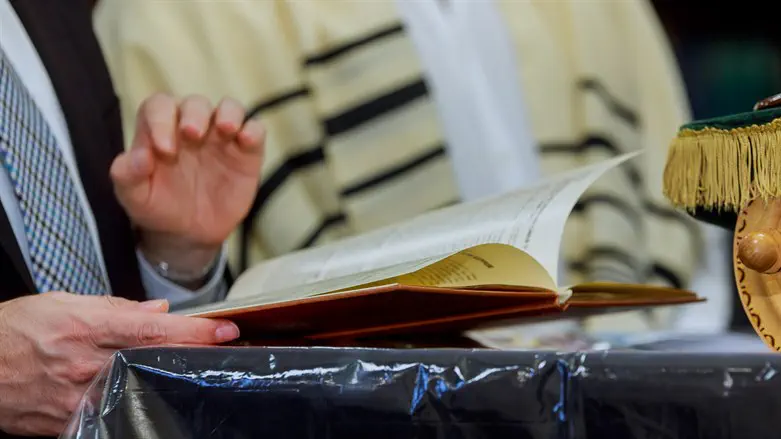 Praying in synagogue (illustrative)
iStock
Police investigated bomb threats at a number of synagogues across the United States during the two days of Rosh Hashanah (the Jewish New Year), as a wave of threats that have interrupted congregations for months continued into the High Holidays.
All of the cases were ultimately deemed not credible and no incidents of violence were reported during the weekend holiday, as thousands of synagogues across the United States convened their members for multiple days of services.
Still, at a handful of congregations, services were evacuated or delayed because of the threats. That was the case, for example, at a Reform synagogue in New Jersey, where 300 congregants were told to leave the building shortly after services began on Friday night.
Jewish leaders had been on high alert because of the series of synagogue bomb threats, which began earlier this summer and which have all been deemed false. The Anti-Defamation League, an antisemitism watchdog, had reported that at least 49 threats had been made against synagogues over the previous two months across 13 states. Security organizations warned going into the holiday that although none of the previous cases were credible, all threats should be taken seriously.
During Rosh Hashanah, the so-called "swatting" calls — which aim to cause disruption and trigger a large-scale police response — broke into public view in at least half a dozen cases. In many cases, the threats have targeted synagogues that livestream their services so the perpetrators can watch the response in real time. That was the case at Temple B'nai Jeshurun in Millburn, New Jersey, whose livestreamed Friday night service was evacuated after a threat was received nine minutes after its scheduled start, according to a local news report. The service was suspended while congregants evacuated and the building was cleared.
Congregation Ahavat Achim, an Orthodox synagogue in nearby Fair Lawn, New Jersey, had been searched and cleared on Thursday night after receiving an anonymous call that warned of "two pipe bombs in a black backpack," according to a local news report.
"I ask everyone to please stay vigilant and look out for one another, especially during the High Holidays," New Jersey Rep. Josh Gottheimer, who is Jewish, tweeted on Saturday afternoon in response to the threats in Fairlawn and Millburn. "To those who made these antisemitic terroristic threats: You are cowards, and we will not back down."
Threats also occurred in other states over the holiday, which began on Friday evening and ended Sunday night. Services on Sunday at the Reform Temple Beth Am of Merrick and Bellmore, on New York's Long Island, were delayed by 30 minutes after a threat was received by email. The Conservative Congregation Beth Shalom in Santa Clarita, California, was searched and cleared while services were underway on Saturday after receiving a phoned-in threat.
"I ask that your response to this cowardice act is to show up in strength tomorrow," Rabbi Jay Siegel told congregants in a statement on Saturday.
In upstate New York, Congregation Berith Sholom, a Reform synagogue in Troy, was searched and cleared after receiving a threat on Sunday morning, according to a local news report; the synagogue did not hold services on the second day of the holiday and no congregants were in the building at the time. The Reform Temple Beth-El in Geneva, New York, was also searched and cleared after receiving a threat on Sunday, according to a news report, as was a church in nearby Fairport on Saturday, where Congregation Etz Hayim holds services.
Multiple congregations were affected by a threat targeting a location near two synagogues in the Brooklyn neighborhood of Park Slope. One congregation, Kolot Chayeinu, was meeting in a larger space in Downtown Brooklyn. But the other, Park Slope Jewish Center, was briefly locked down while police closed and searched a block where a caller said a black bag with pipe bombs had been placed. The executive director of Kolot Chayeinu told a community listserv on Saturday night that local police said the caller had said "they hated Jewish people" and "did not make specific reference to Kolot or any other synagogue."
This is not the first time false bomb threats have been called into a series of Jewish institutions. More than 100 threats were called into Jewish community centers in the early months of 2017. most of the calls, it was later discovered, came from a teen in Israel. In 2020, dozens of JCCs received a separate series of emailed bomb threats.