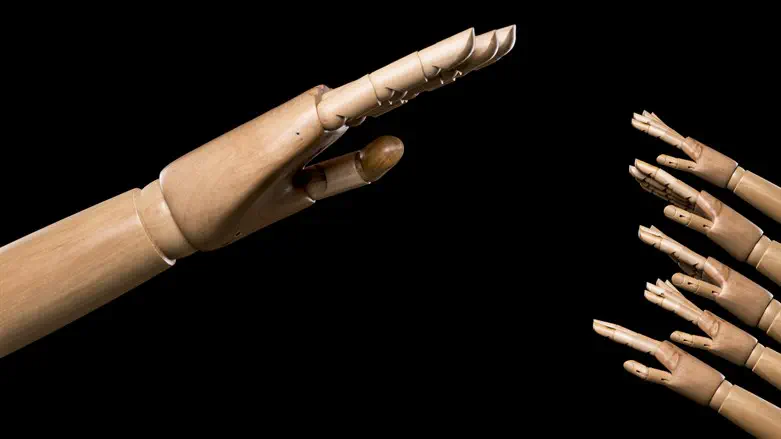 Nazi salute
iStock
(Dayton Jewish Observer via JTA) – A school board member outside Dayton, Ohio, has apologized after delivering a Nazi salute and uttering "Sieg heil" at the board's president during a public meeting this week.
Anne Zakkour was initially defiant when fellow board members and local Jewish groups denounced her after she made the gesture, during a meeting Tuesday of the Tipp City Board of Education. The gesture came after the board president chastised her for trying to interrupt him.
The board president, Simon Patry, "does have a dictator mentality," Zakkour told the Dayton Jewish Observer. She said she was making a "sarcastic gesture" of "submission to a board member trying to act like a dictator" and did not intend it as alarming to Jews.
"That was in no way meant to be anything towards the Jewish people," Zakkour told the Jewish newspaper. "If we don't identify, even at a local level, if we don't call out suppression and oppression, I'm not an expert at this, but isn't that how some of this snowballed with Hitler and Nazism?"
But Zakkour expressed a more regretful tone after two other board members; the Jewish Federation of Greater Dayton; Ohio's regional Anti-Defamation League office; and Ohio Jewish Communities, the umbrella organization of Ohio's eight Jewish federations, all denounced her actions. (A third board member, who was out of town during the incident, declined to comment.)
"Invoking Nazism with a 'Sieg heil' salute during a school board meeting, a place meant to support and guide our youth, is outrageous, offensive, and potentially dangerous," Kelly Fishman, regional director of the ADL based in Cleveland, told the Dayton Jewish Observer. "Hateful gestures and words cannot be normalized by local officials who are tasked with representing everyone in their communities."
Tipp City, located about 16 miles north of Dayton, is home to about 10,000 people. It does not have a large Jewish population; a synagogue in a nearby town that counts Tipp City among the populations served describes itself as "a very small Reform congregation."
The local federation CEO, Cathy Gardner, said she did not believe Zakkour "had antisemitic intent" but said the board member's actions "highlight the need for education and a deeper understanding for all."
Ohio does not currently have a law requiring Holocaust education in schools; last year, a Republican lawmaker on the other side of the state made headlines by suggesting that a law he sponsored about instruction on "divisive concepts" would call for schools to teach from the Nazi perspective in addition to their victims' perspective when presenting about the Holocaust.
"Flippant, casual references to Hitler, the Nazi regime, or the Holocaust grossly diminish the tragedy that still affects so many," Gardner said. "Seeing this image splashed in the news in reference to a disagreement at a board meeting desensitizes people to the terror that ensued at the command of Hitler."
And Howie Beigelman, president of Ohio Jewish Communities, said, "It's never acceptable to use a Nazi salute in debating and discussing policy or political differences."
Following the criticism, Zakkour told the Dayton Jewish Observer in an email, "In hindsight, I regret having done this."
She added, "After four years of attacks by a board member that I believe has been acting as a dictator spreading lies and division, my action was spur of the moment and I'm very sorry for that. My heart is open to all religions, and it was never my intent to offend anyone of the Jewish community."
Zakkour's current term on the board expires in December, and she has previously said she isn't running for reelection. Patry shocked locals by announcing at the Tuesday meeting that he would be resigning from the board, effective immediately, for unrelated reasons; he has since called on to resign over her conduct.
Zakkour has faced previous calls to step down. A concerned citizens' group sought to force Zakkour off the boaZakkour rd over what their complaint alleged was a flagrant misuse of authority and power. A local court dismissed the challenge earlier this year, and the citizens' group opted not to advance their claim.
A version of this story originally appeared in the Dayton Jewish Observer; it is reprinted with permission.