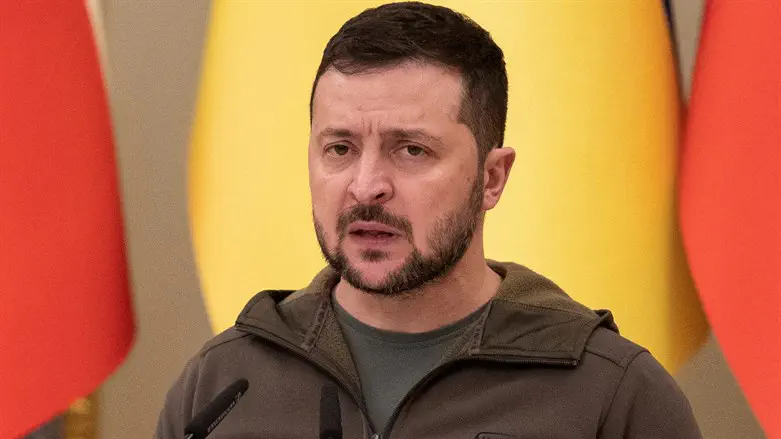 Volodymyr Zelenskyy
REUTERS/Viacheslav Ratynskyi
Ukrainian President Volodymyr Zelenskyy announced on Sunday he was replacing his defense minister Oleksiy Reznikov, calling for "new approaches" in the ministry, a year and a half into Russia's invasion, AFP reported.
Reznikov, who was appointed three months before Moscow's invasion, has led Kyiv's negotiations to equip its forces with modern weaponry from allies.
His removal, announced in a video late in the evening, comes in the midst of Kyiv's counteroffensive and during Ukraine's general push against corruption in response EU requests.
"Oleksiy Reznikov has been through more than 550 days of full-scale war," Zelenskyy said in his daily evening address, as quoted by AFP.
"I believe that the ministry needs new approaches and other formats of interaction with both the military and society at large," he added.
Zelenskyy nominated Rustem Umerov, a Crimean Tatar who has been head of the State Property Fund since last year, to replace Reznikov.
Umerov has taken part in behind-the-scenes talks with Russian officials, including negotiating high-profile prisoner exchanges, and evacuations of civilians, according to AFP.
He was part of Ukraine's delegation in negotiations with Russia in the first weeks of the war and participated in talks on establishing an export corridor for Ukrainian grain through the Black Sea.
Russia has since pulled out of the grain deal, accusing Ukraine and its allies of failing to uphold a part of the agreement to facilitate Russian exports.
In his video statement announcing the replacement on Sunday, Zelenskyy said MPs would be called to vote on Umerov's nomination this week.
The parliament "knows this person well and Mr. Umerov does not need any additional introductions", he said.