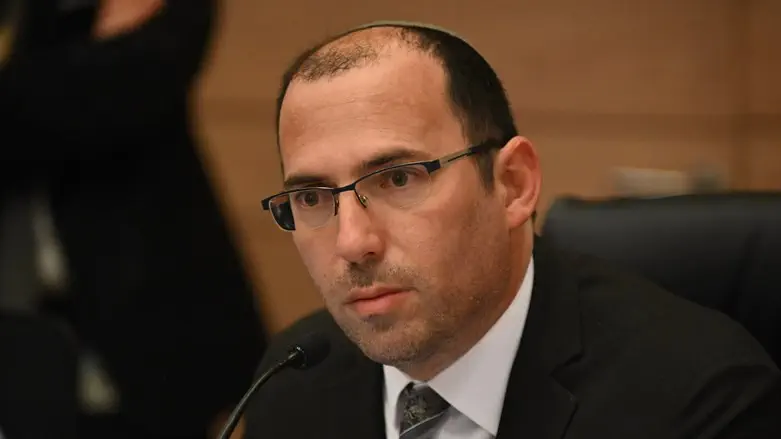 Simcha Rothman
Yoav Davidkowitz/TPS
MK Simcha Rothman (Religious Zionism), who heads the Knesset's Constitution, Law, and Justice Committee, on Thursday said that there is no longer any justification for the makeup of Israel's Judicial Selection Committee. The committee, presently composed of three serving justices, two representatives of the Israel Bar Association, the justice minister, another minister and two MKs, is one of the things the proposed judicial reform plan intends to change...
He added that Israeli Prime Minister Benjamin Netanyahu "said explicitly - the Judicial Selection Committee has ended its journey, because there is no justification for it. Even there, in the US, the judges do not appoint themselves - elected officials choose them. The compromise proposal [by an Israeli academic legal expert Prof. Yuval Albashan and the previous deputy attorney general Ron Nizri]...is not as good as what they publicized a few months ago - their first one was better."
Regarding the Override Clause, he said that, "Between the first reading and the second and third readings, major changes were made."
When asked about Thomas Friedman's article in The New York Times, Rothman said, "Friedman is not a part of the Knesset's charter. I really don't think there is any legitimacy for [outsider's] involvement in the legislative process, especially not regarding internal issues."
He added, "I want them to explain to me how the reasonableness standard is connected to the Israel-US relationship. If they see shared democratic values in it, then I am definitely in favor of our judicial system having the same level of ability to intervene in the appointment of officials who are in the service of the government - [we can be] just like the American judicial system. I think that our shared values obligate us to have a situation similar to theirs."
"Unfortunately we have become used to ioutside nterference on Judea and Samaria and international issues. I think that we can pay attention to Biden, but we can also say... that this is an issue that Israel needs to deal with on her own."
"We can discuss and argue - Israel and the US have a good relationship," he said. "Sometimes there was interference or a conflict of interests, of agreements within the regime in Israel. But concerning who has the last word, the legislature or the judiciary, that is an internal issue that each nations decides by itself."