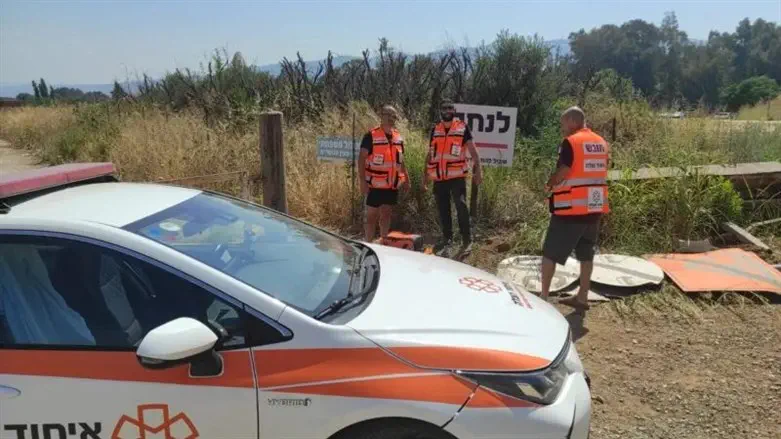 United Hatzalah volunteers responding to an emergency near the Jordan River (ill
United Hatzalah
On Monday morning, a man in his 20s experienced a frightening accident while leaping into the Jordan River near Kibbutz Gadot: He struck his head on a rock, resulting in a significant injury. His friends alerted emergency services.
Moshe Rothschild, a teacher and a volunteer EMT from United Hatzalah, was coincidentally nearby on a school trip with at-risk students when he received the urgent notification from the dispatch center. Wasting no time, Rothschild delegated responsibilities to his fellow teachers and raced to the scene, arriving within a remarkable two minutes.
Upon reaching the location, Rothschild found the injured man in the water, his head supported by two individuals to minimize further harm. Recognizing the need for immediate action, Rothschild, with the assistance of the two individuals and another first responder who arrived at the same time, moved the man out of the water to a safer area in the shade. The volunteer then cleaned the wound and applied a field dressing to the man's head to control the active bleeding, followed by an additional dressing for added security.
Rothschild and fellow United Hatzalah volunteer EMT Roshdi Hussein, who had now also arrived at the scene, worked together with the other first responder to assess the man's vital signs and administer intravenous fluids. They took precautions by immobilizing the patient's spine and monitored his stability until the arrival of an intensive care ambulance, which occurred approximately 20 minutes later.
Given the gravity of the man's condition and the distance to the nearest hospital, the intensive care crew initially considered transporting him by helicopter. Unfortunately, no helicopters were available at the time, necessitating transportation by ambulance instead.
Rothschild is a haredi Jew, while Hussein as well as the injured individual and his friends are Muslims. Despite their contrasting backgrounds, Rothschild emphasized the prioritization of saving a life above all else.
"It was remarkable to witness the cooperation between individuals, which in spite of our different backgrounds happens in Israel all the time," Rothschild remarked. "In situations like these, it doesn't matter where we are, it doesn't matter who the patient is, saving lives takes precedence. This is the true essence of United Hatzalah."