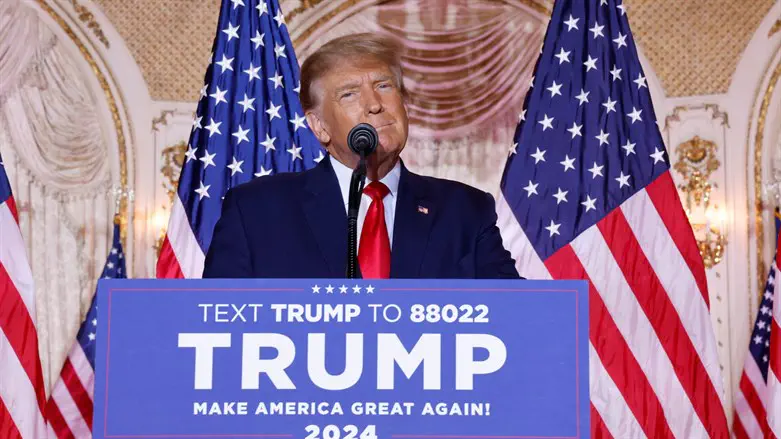 Trump announces he will run for president in 2024 at his Mar-a-Lago estate
REUTERS/Jonathan Ernst
Former US President Donald Trump on Thursday told the Reuters news agency in an interview that Russian President Vladimir Putin has been "somewhat weakened" by an aborted mutiny and that now is the time for the United States to try to broker a negotiated peace settlement between Russia and Ukraine.
"I want people to stop dying over this ridiculous war," Trump said in the interview.
On Ukraine, Trump did not rule out that the Kyiv government might have to concede some territory to Russia in order to stop the war, which began with Russian forces invading Ukraine 16 months ago. He said everything would be "subject to negotiation", if he were president, but that Ukrainians who have waged a vigorous fight to defend their land have "earned a lot of credit."
"I think they would be entitled to keep much of what they've earned and I think that Russia likewise would agree to that. You need the right mediator, or negotiator, and we don't have that right now," Trump told Reuters.
"I think the biggest thing that the U.S. should be doing right now is making peace - getting Russia and Ukraine together and making peace. You can do it," the former President said. "This is the time to do it, to get the two parties together to force peace."
As President, Trump developed friendly relations with Putin. In Thursday's interview, Trump opined that Putin had been damaged by last weekend's uprising by the Wagner Group and its leader Yevgeny Prigozhin.
If Putin were no longer in power, however, "you don't know what the alternative is. It could be better, but it could be far worse," Trump told Reuters.
Shortly after the Russian invasion of Ukraine got underway, Trump described Putin's actions in Ukraine as "genius" and "pretty savvy."
After coming under fire for the remarks, Trump clarified his comments at CPAC 2022 and said, "The Russian attack on Ukraine is appalling. We are praying for the proud people of Ukraine. God bless them all."
Trump did say he thinks that Putin is "smart" but also that American and NATO leaders are dumb. He opined that President Joe Biden's weakness and the failures in the Afghanistan withdrawal are what prompted Putin's decision to invade Ukraine.
"Nobody could ever believe how bad and weak and grossly incompetent he has been. And when you have a weak president who is not respected by other nations, you have a very chaotic world," said Trump. "And the world hasn't been this chaotic since World War II."