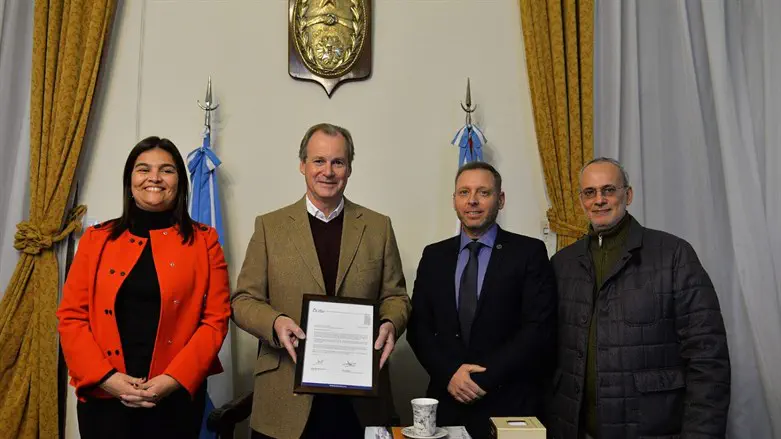 Governor Bordet, Salamon, Avila and Soskin
Courtesy
The governor of the Argentine province of Entre Rios, the Honorable Mr. Gustavo Bordet, was recognized last week by the Combat Antisemitism Movement (CAM) for his leadership role in the fight against Jew-hatred and other forms of bigotry.
CAM Director of Hispanic Outreach Shay Salamon, joined by Mariel Ávila, President of the Lapser Foundation; and Pablo Soskin, President of the Paraná chapter of the Delegación de Asociaciones Israelitas Argentinas (DAIA), met with Governor Bordet at his official residence, the Casa Gris, in the provincial capital.
The gathering followed the recent passage of new anti-discrimination legislation in Entre Ríos adopting and utilizing the International Holocaust Remembrance Alliance (IHRA) Working Definition of Antisemitism.
This law, the first of its kind at the provincial level in Argentina, will help law enforcement and judicial authorities in their efforts to identify and prosecute hate crimes targeting Jews.
At the meeting, Salamon thanked Governor Bordet and presented him with a letter of recognition on behalf of CAM.
"This is a cause that is fundamental and important to us," Salamon said. "Generating tolerance and social integration, and fighting against any hate speech, are key in the fight against antisemitism."
"Entre Ríos took the initiative, which we can say is a model not only for other provinces, but also entities worldwide," he added. "It is an example of what legislation combating hate can achieve. Today we want to acknowledge the governor for all of his efforts and leadership in the fight against antisemitism."
In his remarks, Soskin also praised provincial authorities, noting that the legislation placed Entre Rios in a "vanguard position" in the collective effort against antisemitism.