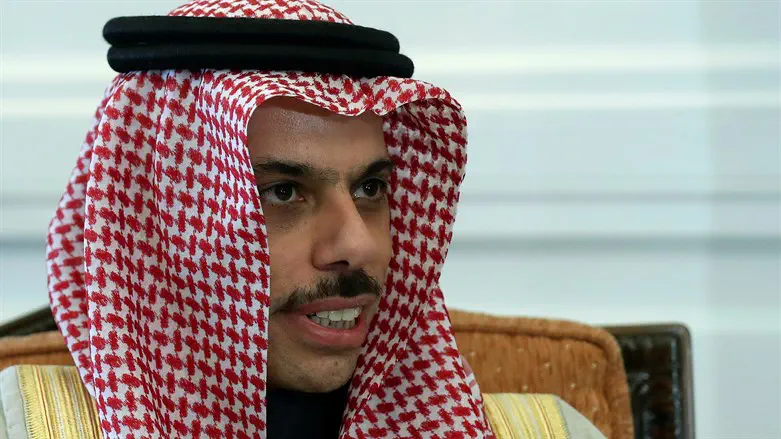 Prince Faisal bin Farhan
Reuters
Saudi Foreign Minister Faisal bin Farhan on Thursday said that normalization with Israel is in the interest of the kingdom, but reiterated the Saudi position that a solution to the Palestinian Arabs must be found as well, CNN reported.
"It's quite clear that we believe that normalization is in the interest of the region, that it would bring significant benefits to all. But without finding a pathway to peace for the Palestinian people, without addressing that challenge, any normalization will have limited benefits," Prince Faisal said at a press conference with US Secretary of State Antony Blinken, who was wrapping up his visit to the kingdom.
Blinken also reaffirmed the Biden administration's commitment to normalization between Israel and Saudi Arabia and said he discussed the matter of normalization in his meetings, "and we will continue to work at it and to advance it in the days, weeks and months ahead."
"We fully support Israel's integration into the Middle East and from day one, we have been working both to deepen some of the existing agreements, and also expand them to other countries. That includes Saudi Arabia," Blinken said, according to CNN.
During his visit to Saudi Arabia, Blinken met with Saudi Crown Prince Mohammed Bin Salman. Following the meeting, a US official quoted by Reuters said that Blinken and the Saudi Crown Prince had an "open, candid" discussion.
They discussed a full range of bilateral issues from Riyadh's potential normalization of ties with Israel to Yemen, Sudan and human rights issues, the official said.
Blinken told the American Israel Public Affairs Committee (AIPAC) Policy Summit on Monday he will discuss normalization between Saudi Arabia and Israel during the trip.
Earlier this week, officials in Riyadh told the Israel Hayom newspaper that normalization with Israel is still on the table despite the recent reconciliation agreement between Saudi Arabia and Iran.
Israel has been for years rumored to have behind-the-scenes ties with Saudi Arabia, but the Saudis have vehemently denied those rumors.
Prime Minister Benjamin Netanyahu has made clear that his goal is to achieve a peace agreement with Saudi Arabia that would "effectively end the Arab-Israeli conflict."
However, Saudi officials have repeatedly said that a Palestinian state with eastern Jerusalem as its capital is a prerequisite for Saudi Arabia normalizing ties with Israel.