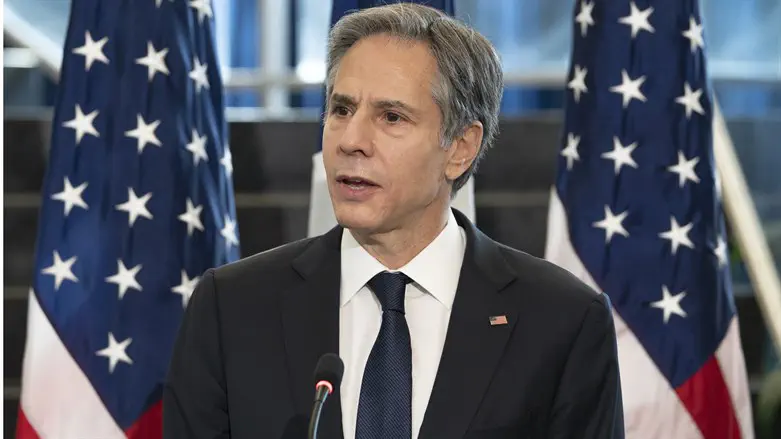 US Secretary of State Antony Blinken
State Department Photo by Ron Przysucha
Normalization between Israel and Saudi Arabia could be on the agenda when US Secretary of State Antony Blinken travels to Saudi Arabia next week, the State Department announced Friday, according to AFP.
Blinken's trip will take place between June 6 and 8, the State Department said.
On the trip, Blinken will "discuss US-Saudi strategic cooperation on regional and global issues and a range of bilateral issues including economic and security cooperation," it added.
He will participate in a ministerial meeting on Wednesday with the Gulf Cooperation Council, and on Thursday in a meeting in Riyadh of the coalition of countries fighting the Islamic State group.
Speaking to reporters on Friday ahead of the trip, Deputy Assistant Secretary for Arabian Peninsula Affairs Daniel Benaim was asked about the likelihood of normalization between Israel and Saudi Arabia.
"From the President on down, including the Secretary of State and the National Security Advisor and others, the United States supports efforts to advance normalization of Arab states with Israel and build on the progress of the Abraham Accords, including the eventual normalization of diplomatic relations between Saudi Arabia and Israel," Benaim replied.
"You've seen us, and you will see us, seek out opportunities short of formal diplomatic normalization to pursue progress in addition. In that vein, when the President last year visited Jeddah, we welcomed Saudi Arabia's decision to open its airspace to all countries, including to Israel. There is indeed a lot of speculation out there, but I don't want to preview the Secretary's private conversations and don't have anything specific on this for you," he replied.
Blinken was also scheduled to visit Israel during the Middle East trip, but informed the Foreign Ministry on Thursday that he would be cancelling the visit.
Israel National News has learned that, contrary to various claims that the cancellation is due to the tensions between Israel and the US, the message conveyed to Israel was that the visit was canceled due to technical circumstances and tight schedules - and because the visit was supposed to be very short anyway and include only a few meetings.
Blinken's trip to Saudi Arabia follows a recent visit to Saudi Arabia by White House National Security Advisor Jake Sullivan, who told a Washington think tank prior to the trip that the US is still working towards a goal of a deal normalizing relations between Israel and Saudi Arabia.
Israel has been for years rumored to have behind-the-scenes ties with Saudi Arabia, but the Saudis have vehemently denied those rumors.
Prime Minister Benjamin Netanyahu has made clear that his goal is to achieve a peace agreement with Saudi Arabia that would "effectively end the Arab-Israeli conflict."
However, Saudi officials have repeatedly said that a Palestinian state with eastern Jerusalem as its capital is a prerequisite for Saudi Arabia normalizing ties with Israel.
(Israel National News' North American desk is keeping you updated until the start of Shabbat in New York. The time posted automatically on all Israel National News articles, however, is Israeli time.)