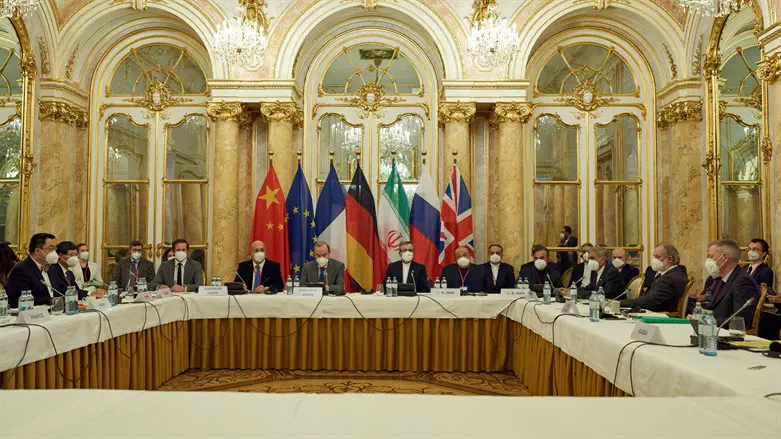 Nuclear talks in Vienna
Handout, Reuters
The United States and Iran on Thursday both denied reports that they were nearing an interim deal under which Tehran would curb its nuclear program in return for sanctions relief, Reuters reported.
"This report is false and misleading," said a spokesperson for the White House National Security Council, referring to an article on the London-based Middle East Eye website. "Any reports of an interim deal are false."
Iran's mission to the United Nations also cast doubt on the report and said, "Our comment is the same as the White House comment."
The comments came after Middle East Eye cited two unnamed sources as saying Iran and the United States had "reached an agreement on a temporary deal" to take to their superiors.
It said Iran would cease enriching uranium to purity of 60% or above and continue cooperation with the UN nuclear watchdog in return for exporting up to 1 million barrels of oil per day and access to "income and other frozen funds abroad."
The website said the talks were led by US special envoy for Iran Rob Malley and Iran's ambassador to the UN Amir Saeid Iravani in an apparent reversal of Iran's refusal to deal directly with US officials.
A State Department spokesperson quoted by Reuters declined to comment on any such talks, saying only that it had ways to pass messages to Iran but would not detail their content or how they were delivered.
The 2015 nuclear deal between Iran and world powers hit a snag in 2018, when then-US President Donald Trump pulled out of the deal and reimposed sanctions on Iran. Iran, in turn, began to scale back its compliance with the deal.
Attempts by the Biden administration to negotiate a return to the deal with Iran have failed, as US officials blamed Iran's insistence on the closure of the UN nuclear watchdog's investigations against it.
However, in recent weeks there have been indications that Washington and Tehran are headed towards a new agreement.
Axios reported last month that the Biden administration discussed with its European and Israeli partners a possible proposal for an interim agreement with Iran that would include some sanctions relief in exchange for Tehran freezing parts of its nuclear program.
Last week, that website reported that Brett McGurk, Biden's senior Middle East adviser, took a low-profile trip to Oman last month for talks with Omani officials on possible diplomatic outreach to Iran regarding its nuclear program.
According to the report, McGurk traveled to Muscat on May 8 after a trip to Saudi Arabia with national security adviser Jake Sullivan and a visit to Israel to brief Prime Minister Netanyahu about the US talks in Riyadh.