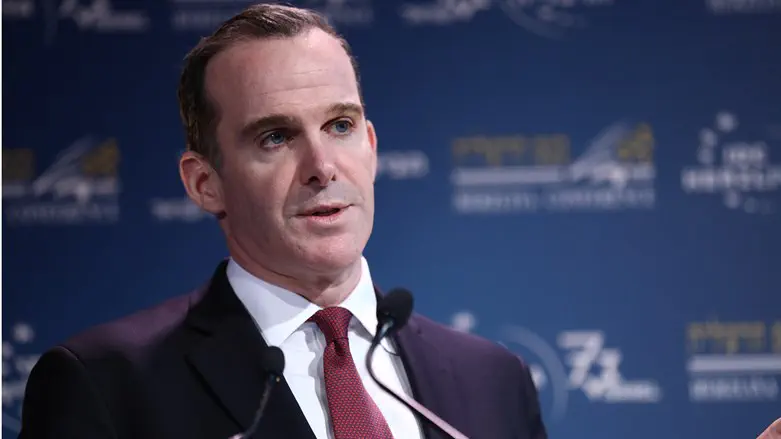 Brett McGurk
Gilad Kavalerchik
Brett McGurk, US President Joe Biden's senior Middle East adviser, took a low-profile trip to Oman earlier this month for talks with Omani officials on possible diplomatic outreach to Iran regarding its nuclear program, five US, Israeli and European officials told Barak Ravid of Axios on Tuesday.
According to the report, McGurk traveled to Muscat on May 8 after a trip to Saudi Arabia with national security adviser Jake Sullivan and a visit to Israel to brief Prime Minister Netanyahu about the US talks in Riyadh.
The Muscat visit wasn't made public by either the US or Oman. The officials said the main issue that was discussed was a new diplomatic push over Iran's nuclear program with Omani mediation.
"The Omanis are holding proximity talks between the US and Iran," a senior Israeli official told Axios, using diplomatic jargon for negotiations done through an agreed upon third party without a face-to-face meeting.
Three senior Israeli officials claimed the White House is exploring through the Omani government whether the Iranians are open to taking steps that would put some limits on their nuclear program and de-escalate the regional situation and what they would want in return.
"The Americans want a time out," one of the senior Israeli officials told Axios.
A White House National Security Council spokesperson pushed back on the Israeli officials' claims. "There is no US discussion of an interim deal and no discussion of sanctions relief, or closing safeguards cases," the spokesperson said.
A senior European diplomat said that the "US is working with the Omanis on the Iranian issue."
The White House NSC spokesperson said they would not comment on regional diplomacy "of which Iran is one aspect."
The Omani and Iranian foreign ministries did not respond to requests for comment.
Axios reported last month that the Biden administration discussed with its European and Israeli partners a possible proposal for an interim agreement with Iran that would include some sanctions relief in exchange for Tehran freezing parts of its nuclear program.
The report followed an announcement by the IAEA that its inspectors in Iran had found uranium particles enriched to nearly bomb grade, or 90 percent, at the Fordow plant.
Tehran denied the claims, saying it had not made any attempt to enrich uranium beyond 60 percent.
The discovery of the uranium came as talks between Iran and world powers on reviving the 2015 Iran nuclear deal remain stalled and have been since September.
At that time, Iran submitted a response to a European Union proposal to revive the deal. A senior Biden administration official said the Iranian response "is not at all encouraging." A US official later said that the efforts to revive the 2015 Iran nuclear deal have "hit a wall" because of Iran's insistence on the closure of the UN nuclear watchdog's investigations.
Three Israeli officials told Axios on Tuesday that The Israeli government is concerned about a possible push by the Biden administration for a "freeze for freeze" interim agreement with Iran.
Minister for Strategic Affairs Ron Dermer and National Security Adviser Tzachi Hanegbi are expected to discuss these concerns during their visit to the White House on Thursday, the report said.