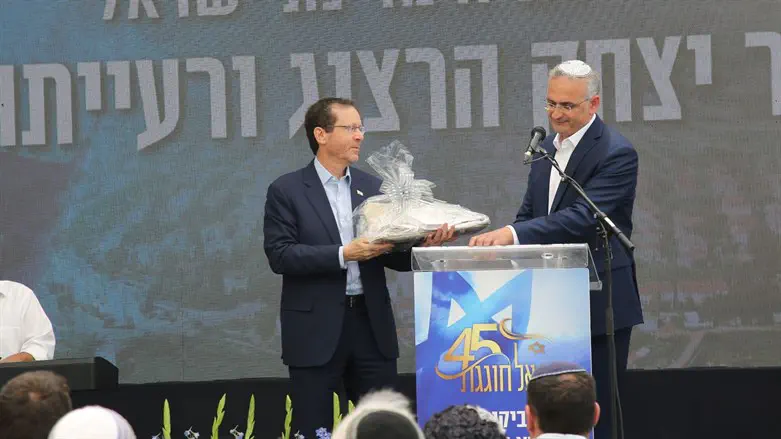 President Herzog in Beit El
Hezki Baruch
President Isaac Herzog visited Beit El today (Wednesday) and participated in the inauguration of the new and permanent municipal building.
As part of his visit, President Herzog arrived together with Beit El Local Council chairman Shai Alon at the new neighborhood Ramat Beit El, where he planted the 'President's Tree.'
In addition, the president visited the educational institutions in the city and met with the Rosh Yeshiva of the Beit El yeshiva, Rabbi Zalman Melamed, and with 200 yeshiva students and the students of the Beit El ulpana. He also met with teenagers with special needs studying at an educational institution in Beit El and with the founders of the community.
They arrived at the site where the Biblical patriarch Jacob had his dream of the angels ascending and descending a ladder to heaven in the Book of Genesis. There the President was greeted by the children of Beit El, who presented him with a basket of local produce, including wine and grapes grown at local vineyards, challah, cherries, and a work of art.
Historian Dr. Haggai Ben-Artzi, a resident of Beit El and a lecturer of Bible and Jewish History at Bar Ilan University, gave a tour of the Biblical site and explained its significance to the Jewish people since ancient times.
Council chairman Shai Alon told President Herzog: "Thank you for giving the residents of Beit El such a warm and moving visit. Today we had the privilege of inaugurating for the first time in 45 years a permanent building for the council, which above all symbolizes our sovereignty and permanence here in the capital of Binyamin and places more roots in this millennia-old historical place saturated with stories of battles, people and kingdoms. This is our story, the story of all the people of Israel. The construction boom in recent years symbolizes the prosperity of Beit El, all the physical abundance and development that comes from Torah and charity."
credit: חזקי ברוך
credit: חזקי ברוך
credit: חזקי ברוך
credit: חזקי ברוך
credit: חזקי ברוך
credit: חזקי ברוך
credit: חזקי ברוך
credit: חזקי ברוך
credit: חזקי ברוך
credit: חזקי ברוך
credit: חזקי ברוך
credit: חזקי ברוך
credit: חזקי ברוך
credit: חזקי ברוך
credit: חזקי ברוך
credit: חזקי ברוך
credit: חזקי ברוך