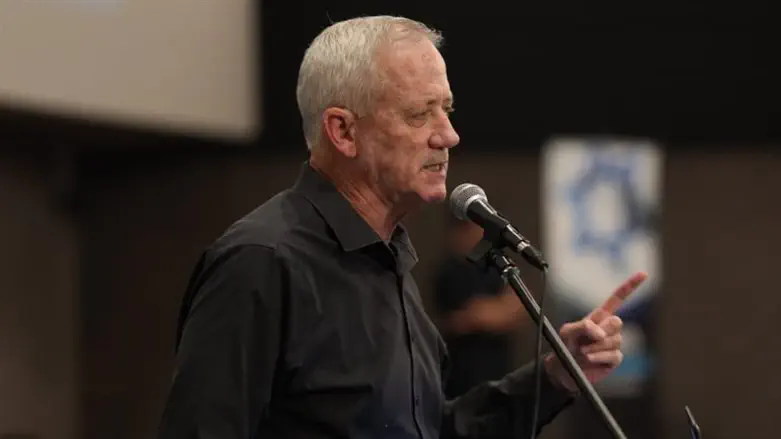 Benny Gantz
Elad Malka
National Unity Party chairman Benny Gantz spoke on Monday at The Jerusalem Post Annual Conference in New York and commented on the Iranian nuclear threat.
"Today, in an ever-shifting global and Middle East reality, our nation is threatened by the emergence of a nuclear-armed Iran," Gantz said. "We must stress that a nuclear Iran is first and foremost a global challenge, endangering global and regional stability."
He stressed that all of Israel will unite if a strike against Iran is needed.
"We cannot allow Iran to obtain nuclear weapons," said Gantz, adding, "As an opposition leader, I want to emphasize this message: We will do whatever it takes to prevent an existential threat to the State of Israel. We know such action might come at a great cost, but, as always in these matters, all of Israel's leadership and people will unite."
He stated that such unity is "imperative" and added it is also important "to do everything possible to reinforce our security cooperation with our most important ally, the United States of America."
"We cannot allow tactical actions or internal politics to hinder our security," continued Gantz. "One cannot ignore what is going on with protests against what this government calls judicial reform. What we currently see in Israeli society is a wake-up call. Israeli society is fighting for its future image, that Israel should stay Jewish, and strongly democratic, should respect tradition but be a liberal country with an open mind."
Gantz described Israel's current domestic challenge as "transforming from a melting pot to a nation of tribes."
"This is not necessarily a bad thing," he said. "Our mission, however, is to ensure that our tribes live side by side, serve the needs of the country and continue building Israel together.
Israel will continue to survive "as long as Israel remains as it was designed 75 years ago, to be Jewish and democratic," stated Gantz.