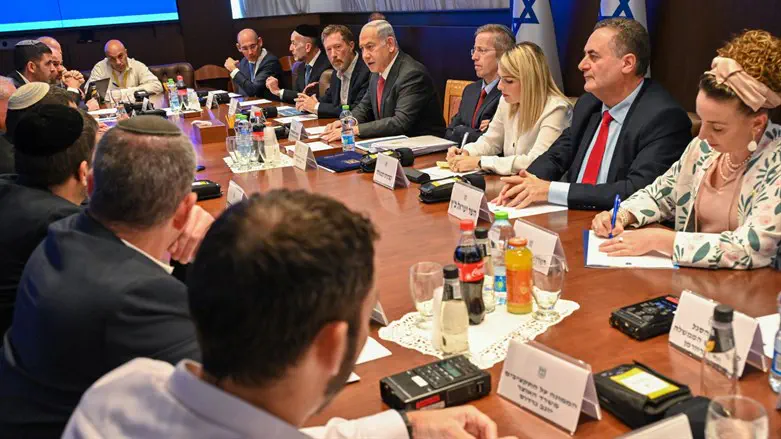 Meeting of the committee to fight the cost of living
Kobi Gideon, GPO
Israeli Prime Minister Benjamin Netanyahu on Monday held a meeting of the Ministerial Committee for Fighting the Cost of Living, which he heads.
At the start of the meeting, Netanyahu said, "Today we are holding the first meeting of the Ministerial Committee for Fighting the Cost of Living, and the first meeting is first of all dedicated to presenting the problem."
"Prices in Israel are significantly higher than they are for similar or identical products when compared to most other developed countries. There is no objective justification for these differences. There are geological layers of monopolies, open and hidden, and all sorts of blocks to competition. In addition, I am of the impression that in recent times, the importers, manufacturers, and marketers have simply lost control of the brakes."
Netanyahu added, "We are gathered here, and we will gather here from time to time, because we are going to examine this, and we are going to fight this. This is not predestined fate. Israel does not need to be more expensive than most of the developed countries in the world. Together with my colleagues in the government, and with the professional staffs, we will begin a determined battle against the cost of living."
"I have requested to hold the next meeting in another two weeks," he added. "At this meeting, I will request that the professional echelons present practical steps for the battle. We will meet every few weeks, in a consistent manner, with a work plan. We will go ministry by ministry to reduce the cost of living for you, the citizens of Israel."