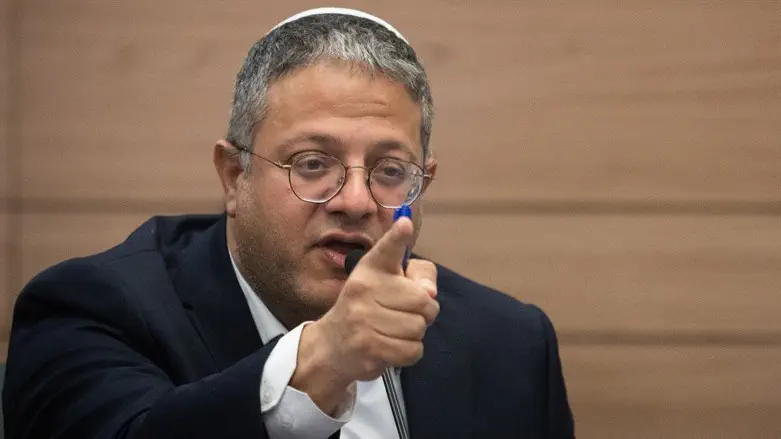 Itamar Ben Gvir
Oren Ben Hakoon/Flash 90
National Security Minister Itamar Ben Gvir spoke on Saturday night with the Israel Police Commissioner and the Commander of the Coastal District and expressed support for their conduct during Friday night's events outside the Prime Minister's home in Caesarea, during which a group of rioters attacked police officers.
"Those who attack police officers should be treated with zero tolerance, and our job is to protect the police officers and democracy. I will fight for everyone's right to demonstrate, but freedom of speech is not freedom of harassment and bullying, violation of public order and freedom to attack police officers. I strengthen the hands of the Commissioner and the District Commander and call for zero tolerance in the face of the phenomena of attacks on police officers and of anarchy," said Ben Gvir.
The leaders of the protest against the government blasted Ben Gvir and said in response, "A person convicted of terrorism backs up police violence. He is not a Public Security Minister, he is a minister of violence and incitement. Ben Gvir, take this to heart: We are not afraid of you, we will continue to demonstrate everywhere against the accomplices of the coup attempt."
Violent clashes erupted on Friday evening between police officers and about 200 demonstrators who were protesting outside Prime Minister Benjamin Netanyahu's home in Caesarea.
The protesters arrived at the scene without prior notice, and were reportedly using megaphones, waving flags and making noise.
The officers confiscated some of the equipment from the protesters and attempted to disperse the demonstrators, who refused to leave.
The demonstrators claimed that the officers used violence against them and even broke the nose of one of them.
A total of 14 people were arrested, among them three at the scene of the protest, and 11 others who protested outside the police station in Hadera against the arrest of the first three detainees.
Among those detained was one of the leaders of the protest, Moshe Radman.