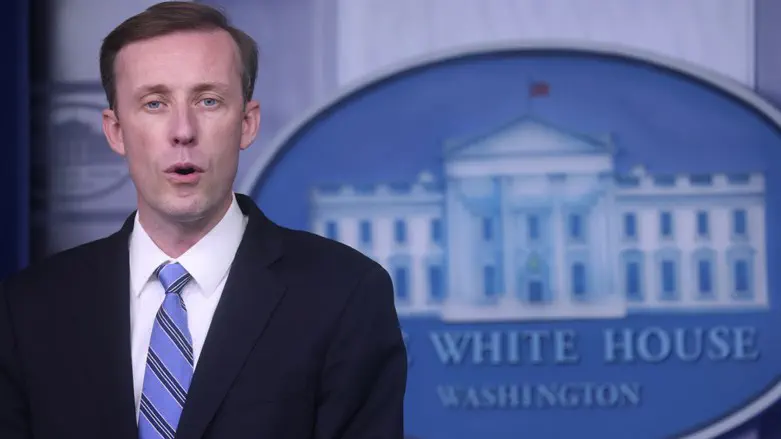 US National Security Advisor Jake Sullivan
REUTERS/Leah Millis
US President Joe Biden's national security adviser, Jake Sullivan, spoke on Thursday at a Washington think tank and said that the US is still working towards a goal of a deal normalizing relations between Israel and Saudi Arabia.
"Ultimately getting to full normalization is a declared national security interest of the United States. We have been clear about that," he said, as quoted by Reuters.
"Now as a sign of my seriousness about how much we're focused on this, and how seriously we are taking this, I am not going to say anything further lest I upset the efforts we are undertaking on this issue," added Sullivan.
Israel has been for years rumored to have behind-the-scenes ties with Saudi Arabia, but the Saudis have vehemently denied those rumors.
Prime Minister Benjamin Netanyahu has made clear that his goal is to achieve a peace agreement with Saudi Arabia that would "effectively end the Arab-Israeli conflict."
However, Saudi officials have repeatedly said that a Palestinian state with eastern Jerusalem as its capital is a prerequisite for Saudi Arabia normalizing ties with Israel.
Sullivan said in his remarks on Thursday that he spoke on Wednesday by video conference with his Israeli counterpart, Tzachi Hanegbi, and that Netanyahu joined the conversation for a period. He did not say, however, when Biden would extend an invitation to Netanyahu to visit Washington.
Sullivan said Washington is working with allies, including Israel, to deter Iran from developing a nuclear weapon, but also noted that the US still prefers a diplomatic solution.
"We will continue to send a clear message about the costs and consequences of going too far, while at the same time continuing to seek the possibility of a diplomatically brokered outcome that puts Iran's nuclear program back into a box," he stated.
"Yes, we will take the necessary action to ensure that Iran does not acquire a nuclear weapon," Sullivan said.
"At the end of the day, that is the fundamental test - Iran cannot have a nuclear weapon. They do not today and they cannot have one," he said.
Talks between Iran and world powers on reviving the 2015 Iran nuclear deal remain stalled and have been since September, when Iran submitted a response to a European Union proposal to revive the deal.
A senior Biden administration official said the Iranian response "is not at all encouraging." A US official later said that the efforts to revive the 2015 Iran nuclear deal have "hit a wall" because of Iran's insistence on the closure of the UN nuclear watchdog's investigations.
Meanwhile, Sullivan announced on Thursday he would travel to Saudi Arabia on Saturday for talks with Saudi officials and will also meet with his counterparts from the United Arab Emirates and India during his visit, according to The Associated Press.
Sullivan said he would "discuss new areas of cooperation between New Delhi and the Gulf, as well as the United States and the rest of the region."
The national security adviser is expected to meet Saudi Crown Prince Mohammed Bin Salman, who is often referred to by his initial MBS, during the visit, according to a person familiar with Sullivan's travel plans.