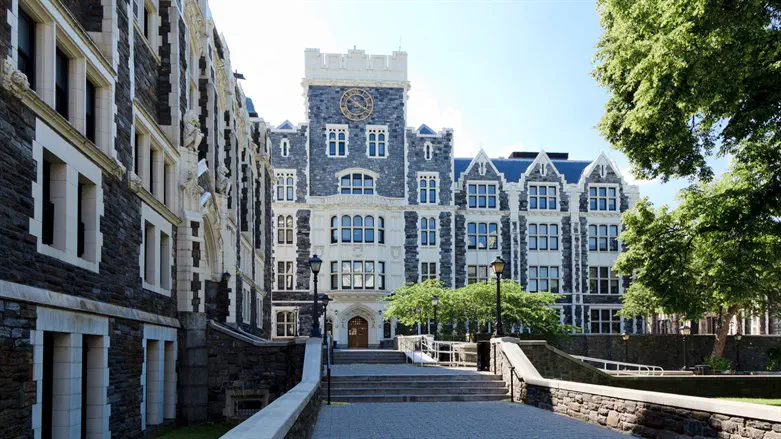 City University of New York (CUNY)
ISTOCK
The Rabbinical Alliance of America (Igud HaRabbonim) condemned the "appalling" commencement speech given by Fatima Mousa Mohammed, a graduate speaking at the City University of New York (CUNY) Law School's commencement on May 12.
The umbrella group – representing over 950 American rabbis – decried the offensive speech for calling for a "revolution" to take on the legal system's "white supremacy'' and for attacking the "fascist" NYPD and military.
RAA described Mohammed's hate-filled speech as a "tirade [that] was factually inaccurate and morally offensive." The organization called for the administration of CUNY Law School to be held accountable for this "appalling lack of judgment."
Noting that in a statement issued on May 30, the Board of Trustees and the Chancellor of CUNY correctly condemned Mohammed's remarks as "hate speech" that "is particularly unacceptable at a ceremony celebrating the achievements of a wide diversity of graduates," RAA called the statement, issued over two weeks after the incident, an important first step in assuring that the school does not become a bastion of hatred.
The organization also called for action in response to the incident to ensure that nothing of this nature occurs again. According to RAA, the speaker must face consequences and the CUNY Law School administrators who allowed this to occur must also face consequences. Additionally, there must be specific consequences to anyone who uses CUNY Law School as a bully pulpit for hate speech.
"In a city that is suffering from an alarming uptick in antisemitism, it is unthinkable that its own institutions should promote the hatred," RAA said.
They applauded New York City Mayor Eric Adams, who in contrast to Mohammed, said in a statement on May 29: "I was proud to offer a different message at this year's CUNY law commencement ceremony — one that celebrates the progress of our city and country, and one that honors those who fight to keep us safe and protect our freedoms, like my uncle Joe, who died at age 19 in Vietnam while giving his life for our country."
"We cannot allow words of negativity and divisiveness to be the only ones our students hear," Adams added.
Rabbi Mendy Mirocznik, executive vice-president of the Rabbinical Alliance of America, denounced Mohammed's speech in a statement "as misguided, inflammatory, and filled with hatred."
Rabbi Mirocznik emphasized that RAA "as an organization committed to defending law enforcement, countering inaccurate criticism of America and Israel, and combating antisemitism, the Rabbinical Alliance of America finds her remarks deeply troubling."
"[Her speech] raises concerns about the educational environment at CUNY Law School that allowed such a delusional and factually inaccurate commencement speech to occur," he said.
"It is appalling that in this day and age an aspiring lawyer, an individual trained on the dime of public education at City University, the gold standard of public education, has the audacity and temerity to publicly make remarks calling for revolution, death, mayhem, and destruction. This future attorney is detached from reality."
Rabbi Mirocznik continued: "The public has an interest in having CUNY Law School be true to its important mission of training quality public interest attorneys, many hailing from underserved and traditionally underrepresented populations. It is important that their communities have legal advocates of their own helping society bring about positive change. In light of this debacle of a commencement speech, the Rabbinical Alliance of America calls on the Chancellor of CUNY to convene a fact-finding commission that will hold accountable those responsible for this incident and will make recommendations to repair the integrity of this important institution. There must be tangible consequences and a specific plan for the future in order to put CUNY Law School back on course to once again being a great educational citadel that is dedicated to producing quality attorneys devoted to law in the service of human needs."
Rabbi Mirocznik expressed the organization's gratitude to Adams and the Chancellor of CUNY, Félix V. Matos Rodríguez, for showing leadership on addressing the issue.
"Confronting the situation head-on and persevering until a proper resolution is achieved is the only way forward," he said. "We commend Mayor Adams for exercising leadership and demonstrating the courage, conviction, and stamina to speak his conscience. The Rabbinical Alliance of America remains committed to promoting respect, tolerance, and understanding among diverse communities and will continue to advocate for justice and harmony and for the equality of all people."