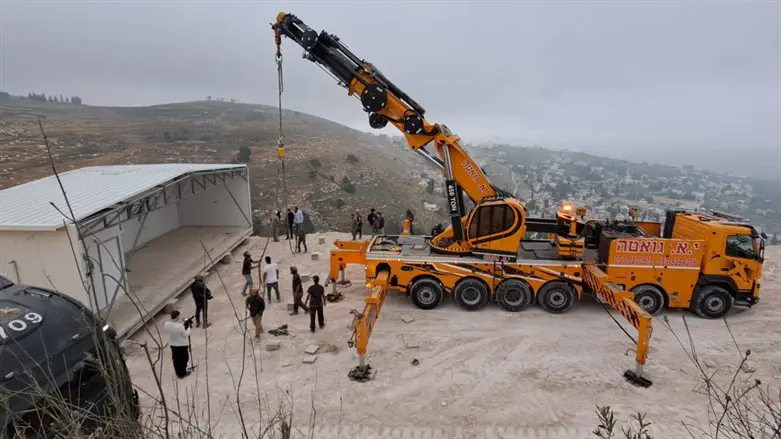 Works for relocation of Homesh Yeshiva
Photo: TPS
The United States on Monday criticized the relocation of the Homesh Yeshiva to a new, permanent location.
"We are deeply troubled by the Israeli government's recent order that allows its citizens to establish a permanent presence in the Homesh outpost in the northern West Bank," a State Department spokesperson said.
The spokesperson said that the move is "inconsistent with both former Prime Minister [Ariel] Sharon's written commitment to the Bush administration in 2004 and the current Israeli government's commitments to the Biden administration."
"The expansion of settlements undermines the geographic viability of a two-state solution, exacerbates tensions, and further harms trust between the parties," the spokesman said. "This is consistent with the views of previous administrations, both Democratic and Republican. We regularly engage with Israeli officials on this issue and will continue to do so."
The yeshiva in Homesh was quietly relocated to the new location overnight Sunday. Students from the Homesh Yeshiva and volunteers moved the yeshiva several hundred meters, from disputed land to the school's permanent location on state land.
The operation was funded by donations from around across Israel and around the world.
The move was made possible after the Knesset amended the Disengagement Law, which prohibited Jews from entering the four Samaria communities which were evacuated in the 2005 Disengagement Plan.
Earlier this month, Yehuda Fuchs, head of the IDF's Central Command, signed an order implementing the end of the ban in Homesh.