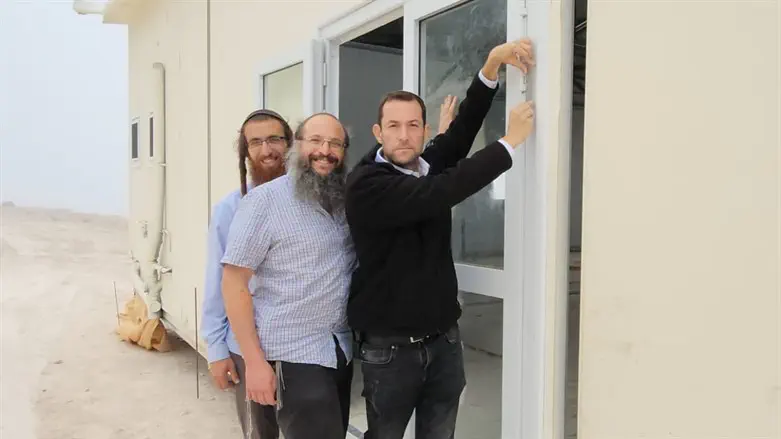 Yossi Dagan affixes mezuzah at Homesh yeshiva's new location
Spokesperson
The yeshiva in Homesh was quietly relocated to a new, permanent location overnight, just days after the IDF commander in charge of Judea and Samaria ended the years-long ban on Israelis visiting Homesh.
Before dawn Monday, students from the Homesh yeshiva and volunteers moved the yeshiva several hundred meters, from disputed land to the school's permanent location on state land.
The operation was funded by donations from around across Israel and around the world.
At the end of the operation Monday morning, Yossi Dagan, the head of the Samaria Regional Council, affixed a mezuzah at the entrance to the yeshiva study hall.
"This is a historic moment - steps towards rectifying the terrible injustice of the expulsion in Samaria. Since the expulsion, we have been working day and night to rectify the injustice, which is not only personal against the expellees but against the entire people of Israel," said Dagan.
"Two months ago, the Knesset correctly removed the Mark of Cain of the expulsion from the number of laws in the State of Israel. This is another step towards complete rectification. We will reach the Ganim, Kadim and Sa-Nur," Dagan continued, referencing the three other Samaria towns evacuated in the 2005 Disengagement.
The four Samaria communities evacuated in the Disengagement Plan were placed out of bounds for Israeli Jews by the Disengagement Law, which was amended two months ago, dropping the prohibition for the site of the former town of Homesh.
On May 20th, Yehuda Fuchs, Commander of the IDF's Central Command, signed an order implementing the end of the ban in Homesh.
Shmuel Wendy, director of the Homesh yeshiva, celebrated the relocation Monday, saying: "With God's help, we have made another step towards the full normalization of the settlement enterprise and the yeshiva in Samaria. We thank all the donors and volunteers and everyone involved in the work over the years, who have helped us reach this moment."
Gush Etzion Regional Council Mayor and Chairman of the Yesha Council Shlomo Neeman, in response to the establishment of the Homesh Yeshiva in a permanent structure on State land, said: "This is a historic and emotional morning for all the people of Israel."
"After almost 18 years since the terrible expulsion (from Gush Katif and Northern Samaria), this morning, the students of the yeshiva finally got to recite the blessing of the return [to the land of Israel]. We thank Defense Minister Yoav Gallant for his firm stance on the side of justice, to Yossi Dagan, Chairman of the Shomron Regional Council who worked tirelessly throughout the years, and we congratulate the yeshiva students, their rabbis, and the general public, who fought for 16 years for the continuation of a Jewish presence in northern Samaria."
היסטוריה: באישון לילה התמקמה ישיבת חומש במשכנה הקבוע
דוברות ישיבת חומש