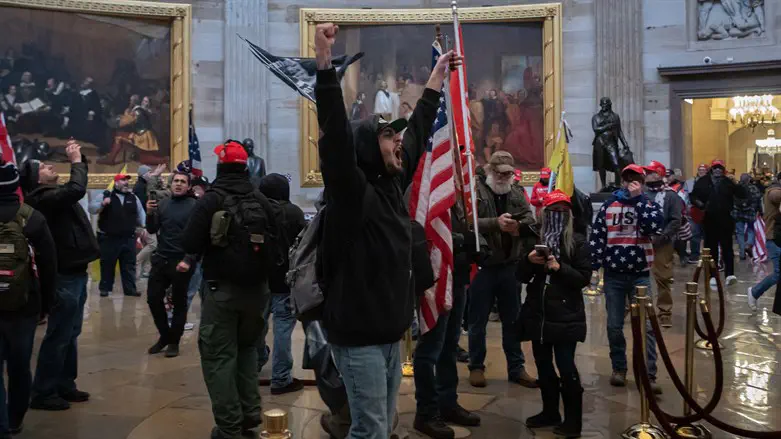 Pro-Trump protesters inside the US Capitol building
Reuters/Michael Nigro/Sipa USA
The Arkansas man who was photographed on January 6, 2021, with his feet on a desk in then-Speaker Nancy Pelosi's office was sentenced Wednesday to four and a half years in prison, NBC News reported.
Federal prosecutors had asked the judge to sentence Richard "Bigo" Barnett to more than seven years for his actions before, during and after the riot at the US Capitol.
They noted in a court filing that a picture of a smiling Barnett lounging in Pelosi's office became "one of the best-known images of that day, symbolizing the rioters having wrested control of both the hallowed space and the political process from the nation's elected leaders."
Barnett's lawyers had argued he shouldn't get more than six months behind bars. "Mr. Barnett is 63-year-old retired firefighter and bull rider from rural Arkansas who came to DC for his very first time to peacefully protest and was unfortunately caught up in the events that turned an ordinary Wednesday into what will forever be known as 'January 6,'" his lawyers contended.
US District Court Judge Christopher Cooper disagreed, sentencing him to 54 months in prison.
Barnett was convicted in January on eight charges stemming from the Capitol attack, including theft of government property and entering and remaining in a restricted building or grounds with a deadly or dangerous weapon. In addition to the stun device, Barnett armed himself with a ten-pound steel pole, prosecutors said.
Barnett became a widely known symbol of the riot when he was photographed reclining in a chair in Pelosi's office, with his feet propped up, and what the government referred to as a "stun device" tucked in his pants. Before he left Pelosi's office, Barnett took an envelope that he later displayed for cameras outside the Capitol.
Barnett expressed remorse for his actions when he took the witness stand in his own defense, noted NBC News.
Prosecutors pushed back on Barnett's claims that he'd been unintentionally swept up by the crowd during the Capitol riot and said in court filings that the evidence was clear that Barnett had come to Washington, D.C., that day looking for a fight.
In February, Kevin Seefried, who carried a Confederate battle flag through the halls of the Capitol during the January 6, 2021, riot, was sentenced to three years in prison.
Seefried was found guilty last summer on one felony of obstructing an official proceeding and four misdemeanors connected to his participation in the riots.
In the roughly two years since the attack, federal prosecutors have arrested more than 950 defendants, according to the Department of Justice.