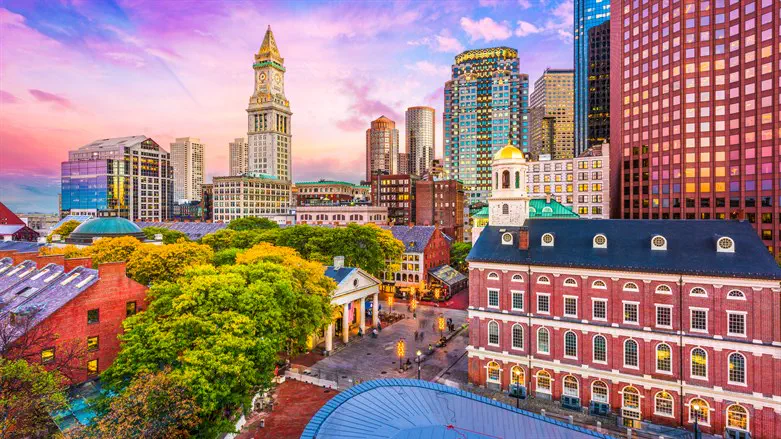 Boston, Massachusetts, USA
צילום: iStock
A Massachusetts house was subjected to thousands of dollars worth of damage after far-right vandals spray painted an enormous swastika on its roof.
Police said that vandals who painted the 12-foot-by-16-foot Nazi symbol on the roof of the home in the town of Scituate caused around $10,000 worth of damage, according to the Patriot Ledger.
The suspects also damaged other parts of the exterior of the house, including the windows and decks. They continued their vandalism spree inside the home, spray painting the interior and smashing a microwave. Police who arrived at the scene found a broken vodka bottle and two cans of pray paint.
The home was trashed between May 6 and May 8, according to authorities, who said that rain on the nights of May 7 and 8 washed away any footprints that could have been used to identity the culprits.
Police took to Facebook this week to ask the public for help identifying whoever was responsible for the crime.
"The Scituate Police Department and the Town of Scituate will never tolerate any act of hatred or bias-motivated crimes," Police Chief Mark Thompson wrote. "Our investigators continue to work diligently to identify and hold those responsible accountable. As distressing as this act is, based on supporting evidence at this time, the incident appears to be isolated and not the work of an organized hate group."
According to police, anyone found to be involved in the incident faces charges of wanton and malicious destruction of property, misdemeanor breaking and entering, defacement of property and trespassing.
Police said they are working in collaboration with the Anti-Defamation League and Combined Jewish Philanthropies, according to the news outlet.
This week, the ADL released a report that found over the last two years activity by far-right groups in Massachusetts has significantly increased.
Massachusetts has "seen white supremacists – including the Nationalist Social Club – increasingly make their presence known," said the report by the ADL Center on Extremism.
The surge in far-right groups in the state resulted in Massachusetts having the second-highest number of extremist propaganda incidents in the US in 2022.
In late April, antisemitic graffiti featuring swastikas was discovered in multiple areas of Boston.
Boston Mayor Charlie Sisitsky described being "saddened and disappointed" by the antisemitic vandalism.