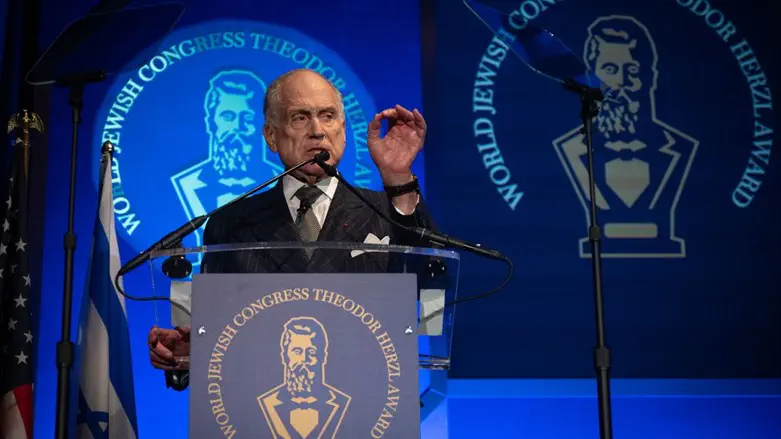 Ronald S. Lauder, World Jewish Congress President
Shahar Azran/WJC
World Jewish Congress (WJC) President Ronald Lauder on Friday urged the Biden administration not to cave in to pressure from progressives to undermine the International Holocaust Remembrance Alliance (IHRA) working definition of antisemitism in an upcoming White House action plan by including an alternative definition supported by the far-left.
The White House plan to combat antisemitism will likely be released this week.
"The importance of the IHRA Working Definition of Antisemitism cannot be overstated," Lauder said in a Twitter statement. "It is the most widely adopted and accepted definition by governments, institutions and organizations around the world."
The IHRA definition has been widely adopted by dozens of governments worldwide, along with subnational governments, municipalities and educational institutions. According to the IHRA website, 39 countries have adopted the definition, along with 30 US states, the Organization of American States and the Council of Europe. In total, over 1,000 global organizations have adopted it.
"It's essential to effectively combat antisemitism, because it allows policymakers worldwide to identify and respond to all forms of Jew hatred, including those that may be more subtle, but no less insidious," Lauder said.
"The international Jewish community would be gravely disappointed if the IHRA definition were not exclusively included in any action plan and would see it as not representative of their experiences and the true manifestations of modern antisemitism."
Last week, more than 160 Jewish organizations from around the world called on the UN to include the IHRA definition in its upcoming "UN Action Plan on monitoring antisemitism and enhancing a system-wide response."
The letter, organized by six leading American Jewish advocacy groups, was addressed to Under Secretary-General Antonio Moratinos who is currently finalizing the plan in his role as the UN's senior official on antisemitism since 2020.
The signatories to the letter asserted that it is their "collective view that the non-legally binding International Holocaust Remembrance Alliance working definition of antisemitism is an indispensable tool to understand and fight antisemitism, and one that can be used entirely consistently with fundamental human rights standards."