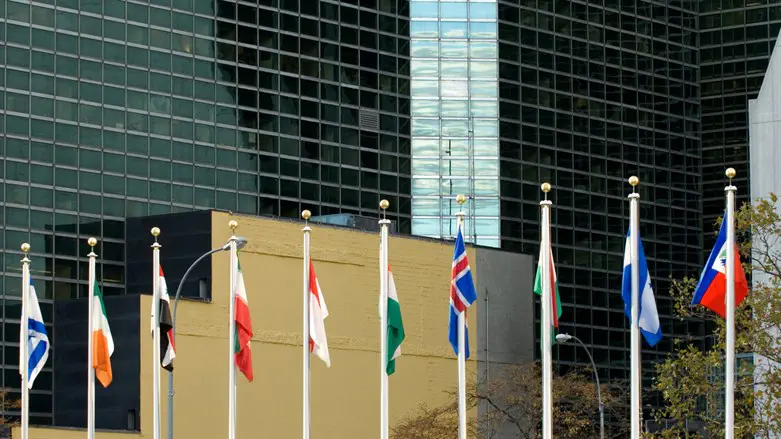 United Nations headquarters
ISTOCK
More than 160 Jewish organizations from around the world called on the UN to include the IHRA working definition of antisemitism in its upcoming "UN Action Plan on monitoring antisemitism and enhancing a system-wide response."
The letter, organized by the American Jewish Committee, ADL, B'nai B'rith International, European Jewish Congress, Jewish Federations of North American and the World Jewish Congress, was addressed to Under Secretary-General Antonio Moratinos who is currently finalizing the plan in his role as the UN's senior official on antisemitism since 2020.
"We welcome your commitment to making the United Nations a more effective force for countering and combating Jew-hatred around the world," the letter noted.
But it added that "in order to combat antisemitism we must understand it" and "key to these efforts is employing a clear and comprehensive definition that explains the multiple forms antisemitism may take."
The signatories to the letter asserted that it is their "collective view that the non-legally binding International Holocaust Remembrance Alliance (IHRA) Working Definition of Antisemitism is an indispensable tool to understand and fight antisemitism, and one that can be used entirely consistently with fundamental human rights standards."
According to the letter, the UN Action Plan needs to acknowledge the that the IHRA definition is of great importance to Jewish communities who are the targets of antisemitic hatred and violence, and that as the Action Plan's primary beneficiaries, Jews are "are best placed to identify manifestations of hatred and bias directed against us."
Pointing out that the IHRA definition has become an indispensable tool for dozens of national governments," the letter explained it has "provided essential guidance to governments and organizations in Europe, the Americas, and elsewhere for nearly two decades in their efforts to combat antisemitism."
Highlighting the widespread international adoption of the definition, they referred to former UN Special Rapporteur on freedom of religion or belief, Dr. Ahmed Shaheed, who recommended that the definition be used as an educational training tool in his 2019 report and 2022 action plan on antisemitism.
"We reiterate that, contrary to the assertions of some civil society organizations, the IHRA Working Definition explicitly affirms that criticism of Israel per se is not antisemitic," the letter said. "We note that many of the governments that have adopted the IHRA working definition and consider it a useful tool have found it entirely possible to sharply criticize Israeli policies and practices. We note, further, that the IHRA working definition is not legally binding and does nothing to prohibit any speech, even the most hateful."
The letter concluded: "We urge you to ensure that the IHRA working definition of antisemitism is referenced positively in the forthcoming ]UN Action Plan on monitoring antisemitism and enhancing a system-wide response] as an indispensable educational and monitoring tool, the value of which has been widely recognized by many key stakeholders, and one that should be used for training UN staff, among others, on how to recognize and respond to antisemitism."