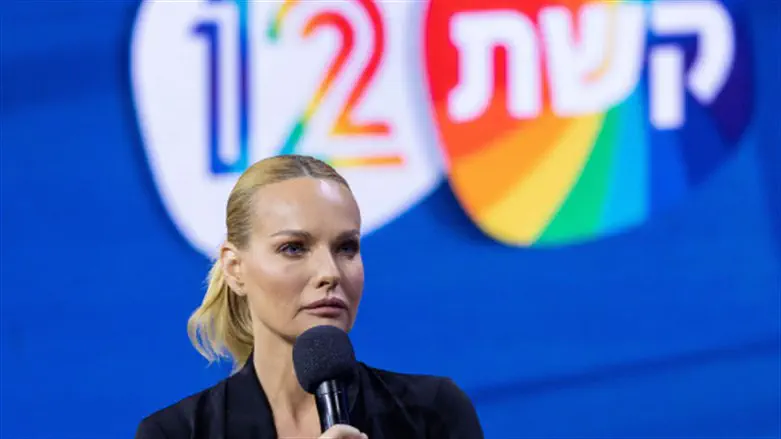 Galit Gutman
Yonatan Sindel/Flash90
Television host Galit Gutman raised a storm after saying on Channel 12 News that haredim "suck [our] blood and they milk secular society."
"How much of a burden can you put on a third of this country, in order to support in the end all of these haredim, who suck our blood? They have lost their shame," she said. "I will sit and I will say the truth - this is the reality."
When a member of the panel called her out for her claims against the haredi sector, Gutman did not retract her statements: "So I am telling you, they suck blood, they milk us, they have lost their shame. Enough with the cover-ups."
The B'tsalmo organization has demanded that The Second Authority for Television and Radio issue Channel 12 News an immediate fine for the statements made against haredim.
"This is an antisemitic statement which has been said consistently against Jews. This is a racist and inciting statement which falsely generalizes, slanders, and is even antisemitic. We did not return to our land after two thousand years of exile in order to face such great hatred," B'tsalmo's statement read.
""We immediately demand that the Second Authority begin a violation process and issue a fine, and we demand that Channel 12 immediately suspend her. The days when they defamed us are gone."
The mayor of the haredi city of Bnei Brak told an Channel 14 newscaster this week that those inciting against haredim receiving budget allocations never stop to realize that haredim do not benefit from the billions spent on subsidizing theater, concerts, museums, sports and universities, but they do benefit from stipends for their yeshiva students and they do bring millions from donors here and abroad to build those yeshivas.
Gutman later apologized for her statements, saying "I would like to apologize from the bottom of my heart if I offended an entire demographic. I love the State of Israel, and out of concern for its future I offered sharp criticism of the representatives of the haredi demographic in the Knesset during a discussion about the government budget and the property tax fund. I have no intention of harming the demographic as a whole. I apologize to everyone who was hurt by these statements"